India, China, and Singapore highlights of Kearney FDI Index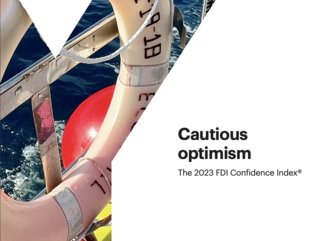 Kearney's 2023 FDICI report
Asia Pacific region increases share of the Top 25 markets for Foreign Direct Investment (FDI) in the latest annual Kearney Confidence Index 2023
The latest annual global survey by management consultancy Kearney makes positive reading for the APAC region as it recovers strongly from the ravages of the COVID-19 pandemic.
Kearney's 2023 Foreign Direct Investment Confidence Index (FDICI) was conducted in January when the global economic outlook appeared even gloomier. Since then, the picture is looking more positive, with the likes of the International Monetary Fund's World Economic Outlook suggesting it no longer expected a global recession in 2023.
This is the first time that Kearney has included a ranking for emerging markets, and Southeast Asia performs strongly, with Malaysia, Indonesia, the Philippines, and Vietnam ranking from 10 to 13 on the list.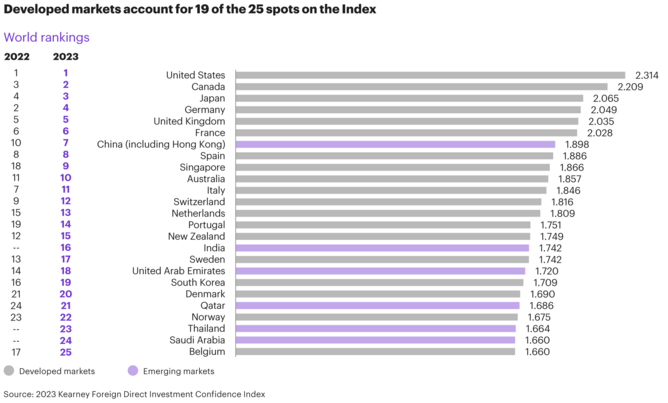 China is the only emerging market in the Global Top 25
Singapore soars from 18th to 9th on global FDI Confidence Index

The survey shows investors are sticking with developed markets for the majority of their FDI, accounting for 19 of the top 25 global markets. Only China makes the Top 10 as an emerging market. China rose three places to seventh, Singapore soars to ninth place, New Zealand drops three to 15th, India takes 16th place, and Thailand in 23rd.
Globally, the United States tops the list for the 11th year running, and Canada climbs back to second. Japan rises to third, leapfrogging Germany who drop two places to fourth. Then comes the UK, closely followed by France.
Singapore is the biggest winner on the FDICI, shooting up from 18th place to ninth, thanks to strong growth of 3.6% and an expected increase in demand for its tech exports.
India had been missing from the Top 25 list for three years, but returns once again on the back of strong growth and future prospects. Thailand returns after a five-year absence.
Europe retains the greatest share of the top 25 (with 12 economies making the list), but that is a decline from 14 in 2022 and 15 in 2021. This could be due to ongoing tensions caused by the war in Ukraine.
The Asia Pacific region has the second greatest representation, with eight markets in the top 25, up two from 2022.
Read the full Kearney FDICI report here.