How Samsung's US$5billion sustainability plan is working out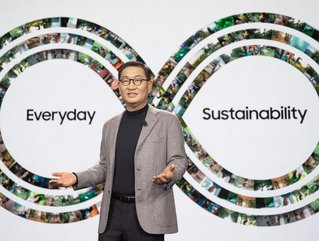 Samsung Electronics Co.'s CEO and Vice Chairman Jong-hee Han
Armed with an ambitious billion-dollar strategy, Samsung is on track to achieve net zero carbon emissions company-wide by 2050 – but challenges persist
With the largest carbon footprint of any major company in tech, emitting 20.1 million metric tonnes of CO2 emissions per year, there is no doubting the pressures and challenges facing Samsung in reaching net-zero emissions.
Difficult-to-mitigate production methods, complex supply chains, scarcity of resources, rising material prices and limited renewable energy supplies, especially in South Korea, are among the many obstacles faced.
But the world's largest mobile phone-maker and second-largest chipmaker has an ambitious plan in play – and is investing heavily to ensure the plan pans out.
Samsung's New Environmental Strategy, first unveiled in September 2022, lifts the tech company's investment in green initiatives to more than US$50 billion by 2030, ensuring not only enterprise-wide net zero carbon emissions – but as one of the world's biggest tech companies, to lead on pioneering tech solutions that address global environmental issues.
This includes making a deeper commitment to working with startups and other partners to invest in and develop innovative technologies capable of helping the planet.
Proof of this commitment comes courtesy of the recently launched Samsung Climate & Circularity Tech Challenge, a startup competition in collaboration with Extreme Tech Challenge (XTC), which looks to identify pioneering ideas that focus on carbon emission measurement, management, reduction and offsetting, in particular.
"As a global information and communication technology (ICT) company, our responsibility is to make positive, lasting impacts throughout the value chain and society," says Samsung Electronics Co.'s CEO and Vice Chairman Jong-hee Han. "To this end, we aim to mitigate carbon emissions by using our innovative technologies and maximising resource circularity across the life cycle of our products."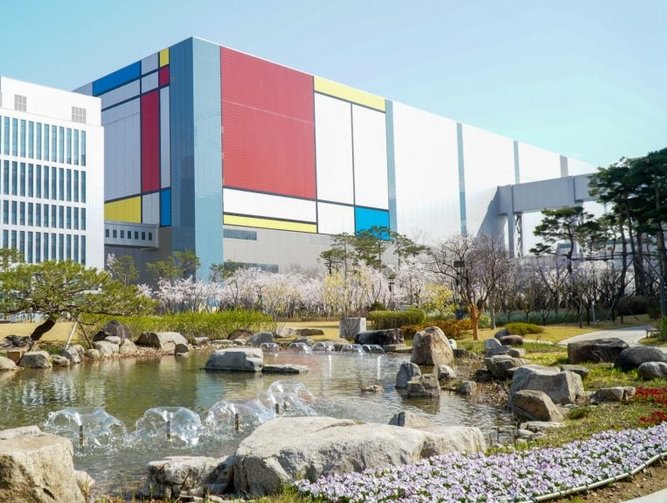 Samsung's global headquarters, Nano City
Samsung's targets – to achieve net zero carbon emissions by 2030 for its mobile and home appliances business (Device eXperience division) and by 2050 company-wide, which includes its chip DS division – are ambitious given the company's focus, complexity, size and scale.
Valued at a whopping US$335.37 billion, the multinational manufacturer is the world's biggest memory chip and mobile phone maker with assembly plants and sales networks in 74 countries and employs more than 290,000 people.
While ambitious and complex, Samsung is on-track to achieve its goals with progress made across everything from energy to recycling – according to its most recent sustainability report.
Renewable energy – gains and challenges
Among significant achievements, the Seoul-based manufacturer secured a 10-million tonne CO2 reduction in scope 1 and scope 2 emissions in 2022, up 59% from the previous year, and is now nearly three-quarters (31%) complete in its transition to net-zero emissions by 2030 – with use of renewable energy rising 65%.
The goal is to secure 100% clean energy across foreign operations by 2027, and South Korea by 2030.
While operating on 100% renewable energy in the US, Europe and China since 2020, Samsung has now achieved the same goal across all DX division's business sites in Korea, as well as manufacturing sites in Vietnam, India and Brazil.
This is a significant achievement for South Korea especially, given the challenges.
The South Korean government has been reluctant to sharply reduce the nation's dependence on coal and gas, with just 9.4% of electric power generation coming from renewable sources in 2022, though plans are afoot to raise the share from renewables to 21.6% in 2030 and 30.6% in 2036.
Last year, Samsung took proactive steps by joining RE100, a global corporate initiative aimed at shifting to 100% renewable electricity and pledged to increase the efficiency of its seven biggest-selling products by 30%.
Water, waste and circular economy
Water is another critical area of focus, and in 2022, Samsung increased its consumption of reused water by 29%, to 117 million tonnes. And on the e-waste front, collected 600,000 tonnes, a 9% increase on 2021.
With a particular focus on maximising resource circularity across the entire product life cycles, circular economy, Samsung has also made significant strides across production, use, and end of life.
The company has raised the amount of recycled resin used in its plastic parts to 99,000 tonnes, a three-fold increase on the previous year – on-target to hit its goal of using recycled resin in 50% of all plastic parts by 2030 and 100% of all parts by 2050.
Reclaimed and recycled fishing nets are now used in six components in the Galaxy S23 series, up from three in the previous series – and the company claims that by end of 2022, its use of recycled ocean-bound material had prevented more than 50 tonnes of discarded fishing nets from entering the world's oceans.
And packaging for its Galaxy S23 series is now 100% recycled paper, quite an achievement given Apple's packaging, which still contains 4% plastic, and Chinese phone manufacturers, many of which are yet to use recycled materials in packaging.
The company has also expanded its self-repair programme, launched in the US in 2022, to Korea and to Europe with rollout in the UK and Germany – giving customers access to tools repair kits and official Samsung parts to fix their own devices.
That said, its circular economy efforts in recycled components, packaging and repairability are limited to Samsung's Galaxy S series.
While progress has certainly been made, there is much still to be done – but challenges persist, especially on the chipmaking front. Manufacturing chips is energy-intensive and Asia's limited access to renewable energy means there isn't enough green energy to go around.
Samsung says its efforts in 2022 produced a total sustainability value of US$88.9 billion, including a value of US$370 billion, rising 39% from the previous year.
This year, however, total value is forecast to decline, given the "global economic recession and industry stagnation", the report states.