Finastra shows Banking as a Service gains momentum in APAC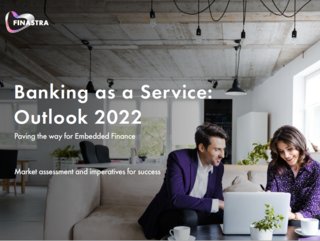 Finastra research shows 9 in 10 senior executives surveyed in APAC are already implementing BaaS solutions or are planning to in the next 12-18 months
Fintech leader Finastra has published a market assessment report that analyses Banking as a Service (BaaS)
The research report, called Banking as a Service: Outlook 2022 | Paving the way for Embedded Finance, surveyed 1,600 senior executives, about BaaS and provided interesting insights for APAC.
The research shows that the region's appetite for BaaS services is greater than key regions EMEA and the Americas. Across APAC, 88% of senior executives in some sectors (including key areas of banking, healthcare, retail and technology) said they are already implementing BaaS solutions or are planning to, compared with 80% in EMEA and 87% in the Americas.
Apart from BaaS representing a US$7 trillion opportunity, notable highlights from the research include:
Over 46% of APAC distributors – the consumer brands that supply embedded financial products to consumers at the point of need – currently offer, or plan to offer, credit cards to their customers using Banking as a Service, with other popular offerings including savings accounts (41%) and payment cards (38%)
Distributors are spending US$10-$50m per year on financial products and service partnerships across APAC - a high level of spending which is expected to be sustained throughout 2022.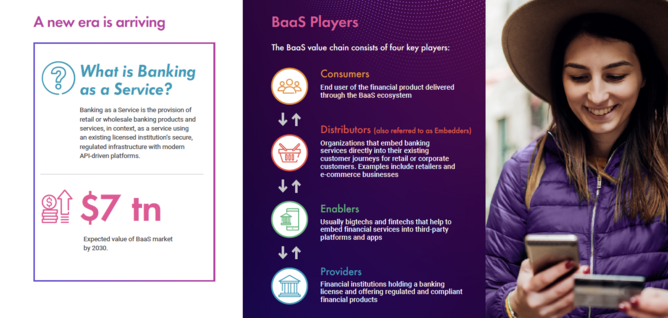 "There's no doubt that BaaS is an incredibly exciting opportunity for the entire financial services ecosystem," says Angus Ross, Chief Revenue Officer, Banking as a Service at Finastra.
"Financial institutions can reach a greater number of customers at significantly lower cost, while distributor brands can open up new lines of revenue and build deeper relationships with their customers. It's clear from our research that consumers (retail or corporate) are changing where they source financial services and shifting to non-bank channels. This trend will only accelerate as integrating regulated products into the customer journey becomes as simple as creating a social media account."
Adding weight to the research, Kelvin Tan, Global Lead, Standard Chartered nexus, said that Standard Chartered nexus is working with consumer brands of all sizes across APAC – such as Bukalapak, Indonesia's first listed technology unicorn, and Sociolla, an Indonesian beauty e-commerce platform, to embed financial services on their ecosystems.
Finastra's research assessed the monetisation strategies of distributors, enablers and providers in BaaS, and explored the importance of partnerships.
The research shows financial services providers need key capabilities to work with distributors and enablers and to monetise BaaS. From a technology perspective, these include:
an open API platform;
an integrated data and analytics platform; and
specialised digital solutions to seamlessly integrate customer journeys
The research sought opinion from distributors, enablers and providers of BaaS, with responses split equally across large. small and medium enterprises. The APAC research covered Australia, India, Singapore and Japan.