Cost control main priority as Australia CFO optimism falls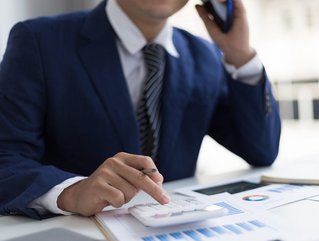 Business spending and hiring is slowing as economic realities kick in
With economic realities hitting home, chief financial officers in Australia are prioritising cost-cutting measures, a new Deloitte report finds
Fears about the state of the economy are weighing heavily on Australian corporate finance chiefs, pushing optimism below pandemic levels.
The latest sentiment survey from Deloitte shows CFOs are less optimistic about their company's financial performance than six months ago, with a drop from 72% to just 50%.
This puts net optimism (optimism less pessimism) at 29% – lower than seen during the first wave of Covid-19. Just 10% of the finance chiefs surveyed felt optimistic about the Australian economy going forward.
"Economic realities are hitting home," Stephen Gustafson, Partner, Audit & Assurance at Deloitte Australia, said.
Six months ago, the risk of an Australian recession seemed unlikely and was low on the agenda for CFOs – but now, more are worried about a recession than a global recession.
This comes amid slowing economic growth, with the Australian economy growing by just 0.2% in the March quarter of 2023, and 2.3% over the year to March 2023. The slowdown is particularly seen in consumer spending as households respond to inflation and interest rate rises.
With uncertainty in the economic picture elevated compared to historical surveys, CFOs are being cautious with their balance sheets.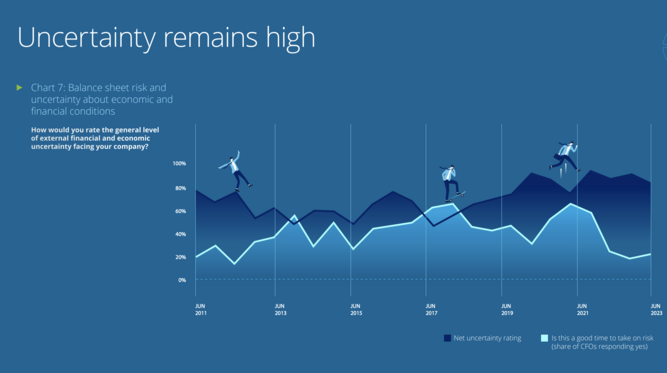 Uncertainty in the economic picture is elevated compared to historical surveys,
Not only is risk appetite low, with just one in four believing now is a good time to take more risk, but business spending and hiring is slowing.
While securing and retaining key talent is still the number one risk to CFOs, around 25% of CFOs expect both capital expenditure and employment in their business to decrease over the next year, compared to only 8% six months earlier.

Cost control is biggest priority for the year ahead, with three out of four citing this as their top priority over the next 12 months.
Looking ahead to 2024 – hope on the horizon
The outlook isn't all bleak, however. CFOs still expect capital expenditure, employment, and revenue to increase in 2024.
According to Deloitte, the Australian economy may well perform better in 2024 than 2023, spurred by strong population growth and easing inflation.
And with that, CFOs may well move back to focusing more on market growth than than the current challenges.
"Business Planning for calendar 2024 should factor in some economic improvement, supported by strong population growth and an eventual return to real wage growth," says David Rumbens, Partner, Deloitte Australia.