Why India's 5G future is lagging, but looking bright(er)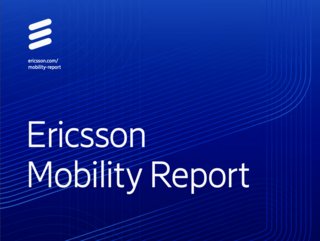 As India prepares to roll-out commercial launches of 5G, Ericsson predicts subscription penetration of 40% by 2027, with enterprise revenue potential huge
It's no secret that when it comes to 5G adoption, India is lagging behind the world, with the country not yet having launched 5G commercially.
According to the latest Ericsson Mobility Report, India is expected to achieve 5G subscription penetration of just 40% by 2027, compared to a 48% global average and 90% and 82% in North America and Western Europe, respectively.
But with country getting ready to roll out commercial launches of 5G networks in the second half of this year, and demand for 5G from both Indian consumers and enterprises increasing, the potential rewards are huge – both revenue for commercial enterprises and in bridging the digital divide, as part of India's digital inclusion goals.
India has seen rapid adoption of smartphones and migration to 4G
Mobile broadband is the foundation on which the government's Digital India initiative will be realised. Currently, 4G is the dominant subscription type driving connectivity growth.
India has witnessed strong growth in global mobile network data traffic, and over the past five years has seen rapid adoption of smartphones and migration up to 4G, with the share of 4G growing from 9% of mobile subscriptions in 2016 to 68% in 2021.
Mobile data traffic has grown by more than 15 times in the past five years and is expected to more than double in the next three years.
But while 4G is now widespread, 5G has not yet been launched in India, with commercial launches of 5G networks planned for the second half of 2022, and enhanced mobile broadband expected to be the initial main use case.
With increasing availability and affordability of 5G smartphones, along with rapid adoption of smartphones in urban and rural areas, 5G subscriptions are expected to increase to reach around 50 million in India by the end of 2023 and will represent 40% of mobile subscriptions by the end of 2027, with about 500 million subscriptions.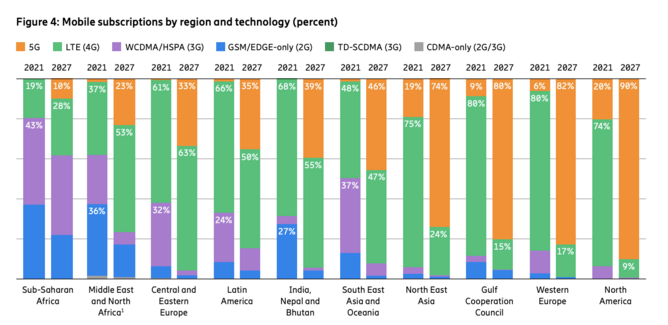 Potential for 5G penetration in India is huge – commercial revenue and digital inclusion
There is certainly significant consumer demand in adopting 5G. According to a recent Ericsson ConsumerLab study, 40 million smartphone users would potentially take up 5G in its first year of availability, while 21% of Indian smartphone users say they already have a 5G-ready device, and most Indian consumers are willing to pay 50% more for 5G bundled plans.
It's not just consumers demanding 5G. Indian enterprises consider 5G to be the most important technology for their digital strategies, according to a survey by Ericsson and OMDIA of Indian Enterprises earlier this year.
India is set to grow at 8% in 2022, the highest among the big countries, according to the IMF, with predictions that by 2027 India will be the world's fifth-largest economy with a GDP of around uS$5 trillion.
Not only does India have a highly developed software industry, and is especially strong in ecommerce, digital payments and edtech, but it is leading the way with adoption of artificial intelligence, with the adoption of AI at companies highest in India, according to a recent McKinsey Global Survey on AI. Not to mention the fact that so many industrial enterprises in India are making unprecedented investments in digital transformation to modernise their processes.
5G will enable Indian mobile service providers to generate US$17bn in incremental revenue from enterprises by 2030 with much of this driven by the adoption of 5G in the manufacturing, energy and utilities, ICT and retail industries, reveals an Ericsson-Arthur D Little study,