Sony, Infosys among world's most ethical firms – Ethisphere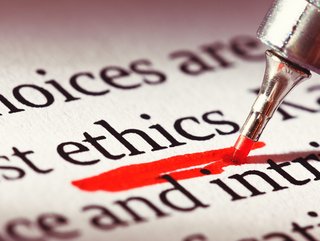 Sony Group, Infosys and Singtel are among eight APAC companies recognised as the world's most ethical firms, according to Ethisphere's 2022 Ethics Index
Sony Group, Infosys and Singtel are among eight Asia-Pacific companies that have been recognised by the Ethisphere Institute as the 'World's Most Ethical Companies' in 2022.
These eight APAC-headquartered companies were among 136 organisations lauded for their unwavering commitment to ethical business practices through programs that positively impact employees, communities and broader stakeholders, and contribute to sustainable and profitable long-term business performance.
The Ethisphere Index 2022 recognises companies that demonstrate outstanding performance in transparency, integrity, ethics and compliance.
"The moment is now, and the data is clear – companies must lead on sustainability, social issues, and governance," says Ethisphere CEO, Timothy Erblich. "Congratulations to the 2022 honorees for their dedication to advancing business integrity, for leadership on tough issues, and demonstrating that doing good is key to successful, long-term performance."
The honorees span 22 countries, including five countries across Asia-Pacific, 45 industries and include six organisations that have been named to the list 16 times, every year since inception.
Kao Corporation only Asian firm to make list for 16 consecutive years
Included in the big six is Japan-headquartered leading consumer goods company Kao Corporation, the only Asian company to have made the list every year since the ranking began in 2007.
Such recognition of the health and beauty giant, which has 33,000-plus employees and has annual revenue of US$12.3bn, is a testament to "Kao's dedication to advancing ethical and ESG management best practices", says Erblich.
According to Kao's chief executive Yoshihiro Hasebe, the business has always been based on walking the right path, a core value of its founder, and as such, external evaluations are an important indication the firm is going in the right direction.
"While we continue to walk on the right path, we should never be satisfied with the status quo," says Hasebe. "With our drive towards improvement, we renewed our corporate philosophy—The Kao Way—in 2021, which includes principles such as 'We act with courage.' As CEO, I am determined we continue to aim higher in this ever-changing world."
Kao's renewed corporate philosophy includes ESG perspectives, such as the coexistence of people and the Earth, diversity and inclusion, and embracing challenges. By 2030, Kao aims to empower at least 1 billion people, to enjoy more beautiful lives and have 100% of its products leave a full lifecycle environmental footprint that science says the natural world can safely absorb.
Sony Group is largest APAC firm to be recognised
Japan-headquartered conglomerate Sony Group Corporation, which has 110,000 employees and US$84.8 annual revenue, was the largest APAC-headquartered company on the list this year.
Listed for the fourth consecutive year, Sony was recognised for its strong ethical culture and commitment to fulfilling its purpose, 'fill the world with emotion, through the power of creativity and technology' by responding to changes in society with its values of integrity and sincerity.
"Sony holds 'integrity and sincerity: earn the trust for the Sony brand through ethical and responsible conduct' as one of its most important values," says CEO Kenichiro Yoshida. "Together, with our 110,000 employees, we will continue to manage Sony in an ethical manner with a long-term view and aim to contribute to people, society and the earth through our diverse business and technologies."
Infosys and Singtel represent India and Singapore in list
One of just four global honorees in the Software and Services Industry, alongside Salesforce and Workday, and the only firm from India, Infosys was distinguished for its undiluted commitment towards integrity and making value-based decisions.
The next-generation digital services and consulting firm, which has 297,000 employees and annual revenue of US$15.6bn, was acknowledged for the second consecutive year for its continued commitment to creating the highest value for the communities they serve while prioritising social imperatives.
Singapore's telecoms giant Singtel also made the list, for the ninth consecutive year, not surprising given the firm's core values in believing that its long-term success depends not just on its financial performance, but on how it maintains the highest standards of corporate governance and creates positive change in society. The 143-year-old conglomerate was the only Singaporean firm recognised and one of five global telecoms companies, sharing the accolade internationally with AT&T and Nokia, among others.
Two companies from Thailand make the list
Like last year, two companies from Thailand made the list, including food, beverage and agriculture giant Charoen Pokphand Group, listed for the second time. The Group, which has nearly 30,000 employees and annual revenue of US4.8bn, has integrity embedded into its DNA and this has been the foundation for its ethics since its founding more than 100 years ago.
Credited with being the first Thai company to make the list in 2019, and the only one to be honoured for four consecutive years, Bangkok-based real estate giant DTGO Corporation believes that success is assured if its undertakings benefit the world at large, the wider society and all stakeholders, and contributes to a number of societal programmes including the Buddharaksa Foundation.
Hong Kong and Australia complete the APAC list of eight
The only Hong Kong-based company to secure a place in 2022, for the 9th consecutive year, and consistently the only sourcing organisation, William E. Connor & Associates is a global sourcing firm that represents household names such as Crate & Barrel, Harrods, Bloomingdale's and Dillard's.
Connor's 73 years of success is rooted in its values, ethics and integrity and continues to "work tirelessly toward a future of ethical sourcing and manufacturing", says CEO William E. Connor. The company, which has 1,000 employees and annual revenue of US$1.3bn, practices its own ethical standards internally, with every employee going through ethics training annually, and also employs an independent whistle-blower program where anyone can contact a third-party company to report an ethical breach.
Finally, Teachers Mutual Bank was the only Australian company to make the list, for the 9th consecutive year, and this year was one of only five banks globally to be recognised. 'This recognition reinforces our credentials as a socially responsible bank seeking to make a difference. I'm proud to lead a company that is using banking as a force for good,' says Steve James, CEO.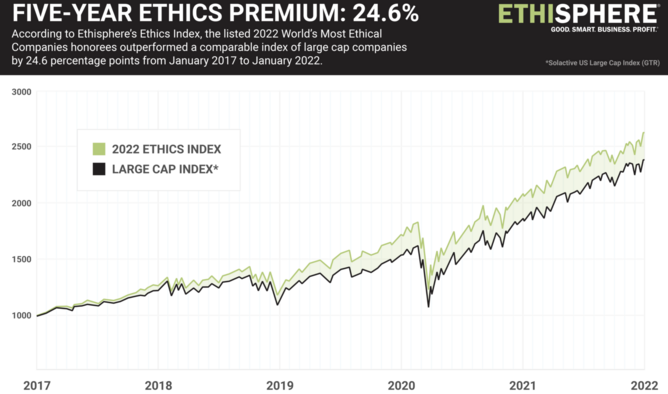 Ethisphere companies outperform
Ethisphere's 2022 Ethics Index, the collection of publicly traded companies recognised as recipients of this year's World's Most Ethical Companies designation, outperformed a comparable index of large-cap companies by 24.6 percentage points over the past five calendar years.
"The outperformance, which Ethisphere refers to as the Ethics Premium, has remained consistent since we began tracking the equity performance of honoree companies," Erblich says. "We believe this outperformance is the result of the kinds of practices that lead a company to be on our list – practices that demonstrate investment in their people, culture, and communities. We see in this data that those practices, over time, lead to stronger financial performance."