APAC firms must step up as youth seek green jobs – Accenture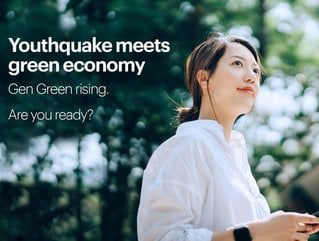 Young people in Asia Pacific aspire to a green job more than anywhere in the world, reports Accenture, but will there be enough green jobs to go around?
The idea of creating a better future has mass appeal to young people across the globe, but young people in APAC are particularly eager.
According to new Accenture research, More than three-quarters of young people in Asia-Pacific want a green job within a decade, but there won't be enough green jobs in the region to meet demand.
Meet Generation Green
Three out of four young people in APAC aspire to get a green job within the next decade, outpacing youth elsewhere in the world in gravitating towards careers – and organisations – that have an environmentally sustainable agenda, reveals Accenture's report, Youthquake Meets Green Economy.
In a landmark study of 29,500 youth aged between 15 and 39, in 18 countries, 77% of respondents in Asia Pacific said they aspire to work in the green economy in the next decade, strikingly higher levels of aspiration as compared to the US (52%) and Europe (57%).
And more than half (54%) of the young in APAC even think they will accomplish this goal within five years.
These young people, aka Gen Green, aspire to work in the green economy and solve some of the world's biggest environmental challenges, from helping economies transition to cleaner transportation to helping the region decarbonise.
"There is every indication that the region's youth are especially enthusiastic about making a positive environmental impact and working for organisations that demonstrate a real commitment to sustainability," says Gianfranco Casati, CEO for Growth Markets at Accenture.
Supply of green jobs will not meet demand
There's just one problem – many of these green jobs don't exist yet, and the challenge for companies is to move quickly enough to appeal to this talent and design jobs that allow these young people to make a lasting difference.
Because, according to Accenture's modelling of job creation, supply of green jobs is unlikely to meet demand.
It is estimated that the number of green jobs in Australia, China, India, Indonesia, and Japan will grow by 62%, reaching 32.6 million, by 2030. And while this number sounds impressive, it will fall short of the high demand from the region's 665 million young people active in the labour force.
New green jobs will grow as part of a transition in four broad areas – decarbonising the built environment, greening agriculture and land use, supplying low carbon electricity, and transitioning transport.
More than 12 million jobs are expected to be in the area of transportation, and almost 10 million more jobs will come from increasing the supply of low-carbon electricity, especially in the form of renewable energy.
"Many companies have started by making public commitments to sustainability. Now they have to execute by prioritizing green economy activities: the kind that has a primary purpose of protecting or restoring the environment while creating new employment opportunities," Casati adds.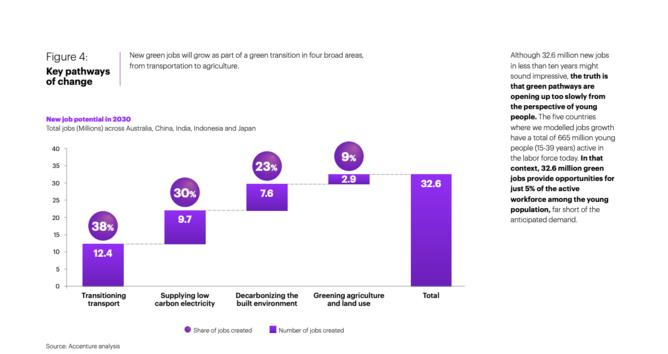 Three imperatives for companies to attract young people
As the demand and supply of green jobs continue to grow, what do companies need to do? Many have started by making public commitments to sustainability, how they have to execute, and that means they need talent, and often new forms of talent.
Accenture identified three imperatives for companies in APAC to attract young people:
Flip the script – for your future's sake Discerning and critical, young people are highly sensitive to superficial attempts at 'greenwashing'. Conversely, companies that demonstrate a genuine commitment to a green-economy transition can have a strong appeal for young people. First, create new green businesses that are decoupled from legacy businesses, and second, build internal capabilities for sustainability across all business divisions, which could include introducing and tracking new sustainability KPIs.

Deliberately design 'green collar' jobs to spark innovation Today's sustainability challenges demand fresh, hybrid solutions. Companies need to bring in a mosaic of talent profiles into new types of teams to build these solutions faster. Expertise will be required in unusual combinations such as chemical engineering-plus-innovation and climate science-plus-AI. Simply building this talent pool won't suffice. The most innovative companies will go one step further by offering them the creative freedom to bring their ideas to life with the latest instruments such as advanced data platforms, analytical tools and new technologies.

Make everyone part of the green transition Not all green jobs require advanced degrees – a large portion of green skills will be needed in entry-level roles and require vocational qualifications. Based on our research, youth in the region are eager to receive the specialised training these jobs require. For companies, this creates unique opportunities to invest in upskilling or reskilling these aspiring young workers.