Top 10 chaebol chiefs: driving conglomerates in South Korea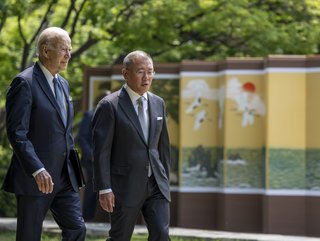 Euisun Chung, Chairman of the Hyundai Motor Group, with President Joe Biden in Seoul in 2022 / Credit: White House photo by Adam Schultz
These ten bosses are leading South Korea's biggest corporate dynasties into the future – from Samsung to SK, Lotte to LG
As long-time pillars of South Korea's 'miracle economy', chaebols are the large, family-run conglomerates that largely dominate the country's economy.
From the Korean words 'chae' (wealth) and 'bol' (clan), Chaebols emerged during the '60s and '70s, as a product of South Korea's economic transformation following former President Park Chung-hee's military coup in 1961.
Chaebols have since grown to become a powerful force in the country and continue to be the backbone of the economy. According to the Bank of Korea, the 2019 total revenues of the five largest South Korean Chaebols alone represented 44% of the country's GDP.
Chief among these corporate dynasties are globally renowned names, including Samsung Group, the country's largest chaebol, along with Hyundai, LG, SK and Lotte, among others.
While there have been accusations of chaebols fostering a culture of corruption, and even imprisonment of some leaders charged with fraud during former President Park Geun-hye's reign – chaebols appear to have cleaned up their acts in recent years and under current President Yoon Suk-yeol, look to be making ambitious plans.
Both Samsung and Hyundai Motor Group have committed billions of dollars to new semiconductor and EV factories in the US, while other chaebols, such as LG, SK and Posco have signed deals with US carmakers in EV batteries and materials.
Here, we profile the 10 chiefs leading these mighty conglomerates into the future and look into how they are transforming for the future.
1
Lee Jae-Yong
Total assets: US$341.1 billion
Affiliated companies: 60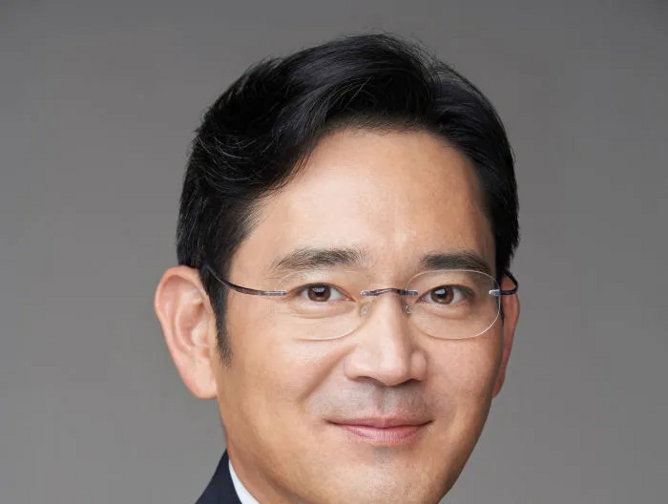 As the third-generation leader of Samsung, Lee Jae-Yong is the fourth-wealthiest person in South Korea
With the official appointment of heir Lee Jae-yong as executive chairman last October, South Korea's biggest business conglomerate Samsung is now run by the third generation of its founding family.
While 55-year-old heir Lee Jae-yong (aka Jay Y Lee) has held the role since 2014, having taken over from his father (the late Lee Kun-hee), it was only formalised last year.
The formalisation of the role was announced after Lee, who was previously convicted and imprisoned on charges of bribery, embezzlement, and concealment of criminal proceeds worth around US$6m, was pardoned by South Korea's President Yoon Suk-yeol.
In a statement by Samsung at the time, the Board cited "the current uncertain global business environment and the pressing need for stronger accountability and business stability" in approving Lee's formal role.
Lee is now navigating tough times for the smartphone manufacturer and chipmaker amid slower consumer spending on tech and new US restrictions on exports of advanced semiconductors and chipmaking equipment to China. The tech giant posted record quarterly losses in its chip division in the first quarter of 2023.
However, Samsung has big plans. The Group unveiled a bold US$356 billion investment plan through 2026, 30% more than in the previous five-year period, with ambitious plans to accelerate growth in semiconductors and biopharmaceuticals, in particular.
Prior to being appointed de facto head in 2014, Lee was Vice Chairman of Samsung Electronics, the company's jewel crown, for two years.
Lee, who has an estimated net worth of US$11 billion, is the fourth-wealthiest person in South Korea.
2
Total assets: US$205.8 billion
Affiliated companies: 200+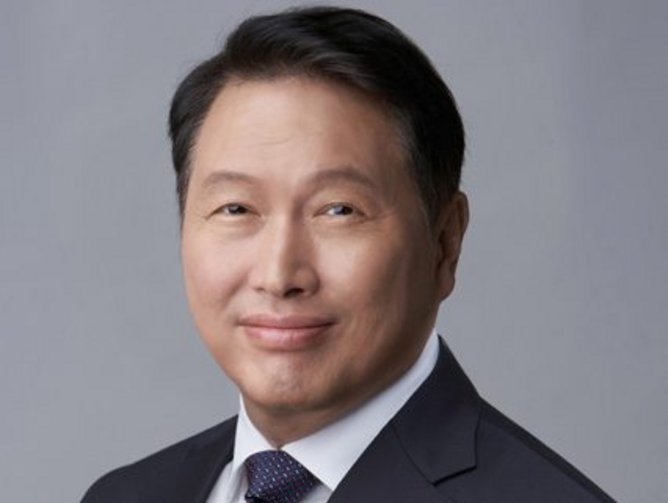 Tae-won Chey has been the Chairman of SK Group for the last 27 years
Serving as the Chairman of SK Group for the last 27 years, Tae-won (Tony) Chey oversees the more than 200 companies (and 100,000 people globally) within the SK brand, spanning multiple industries, from semiconductor to telecoms to biopharma, and with a focus on renewable energy, life sciences, digital technology and advanced materials.
Displacing Hyundai as the second-largest South Korean conglomerate in 2021, SK Group was recently named to TIME's List of 100 Most Influential Companies of 2023, as it looks to make big bets on American-made EV batteries, working with Hyundai on a plant in Georgia and with Ford on facilities in the US.
Chey, who has held various leadership roles across SK's operating companies for nearly three decades, is an advocate for environmental sustainability practices and a leading voice in South Korea for corporate social value creation.
He has led SK's commitment to creating economic and social value in everything they do, providing a measurable impact for all stakeholders, from employees to suppliers, communities to customers.
Under his leadership, SK introduced its Double Bottom Line (DBL) initiative in 2018, embedding social value at the core of its business model and pledging to monitor and report on it. He also founded and is Chairman of CHEY Foundation, which works to advance cooperation between universities, institutes and think tanks to support the global creation of social value.
"I believe companies have a responsibility to use their expertise and resources to drive positive change for local communities, global industries and society as a whole," he once said.
As a champion of corporate social value, Chey has secured numerous accolades, among them being named as a Global Leader for Tomorrow at the World Economic Forum (1999). He also serves as Chairman for the Korea Chamber of Commerce and Industry, the Center for Social Value Enhancement Study, and for the Chey Foundation. He has a degree in physics from Korea University and a PhD in economics from the University of Chicago.
The companies in the SK Group have a combined US$139 billion in global annual revenues.
3
Euisun Chung
Total assets: US$181.7 billion
Affiliated companies: 57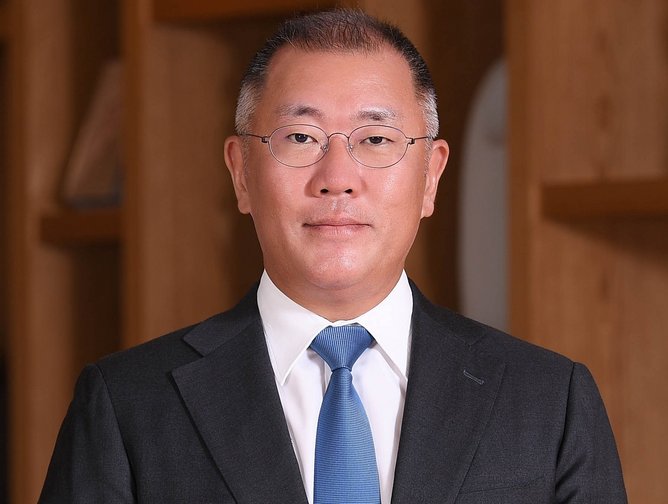 When he took the reins as Group Chairman of Hyundai in 2020, Euisun Chung was the first generational handover for two decades
When Euisun Chung took the reins as Group Chairman of Hyundai Motors from his billionaire father Mong-Koo Chung in March 2020, he was the first generational handover at the world's fifth-largest automaker for two decades.
Third-generation leader Euisun, who is credited with steering the turnaround of Kia Motors, had played an increasingly visible leadership role since September 2018 when he was promoted to Executive Vice Chairman.
Chung, whose grandfather founded Hyundai, and whose father grew it to global heights, is now leading the carmaker into an electric future.
Considered a visionary and pioneer, since taking the helm, Chung has set ambitious targets for the Group as it looks to win more than 12% of the global market for battery EVs by 2030. Chung recently announced investment of US$85 billion over the next decade, including US$28 billion towards electrification – US$7.4 billion of this is earmarked for battery development, with plans to introduce lithium-ion-phosphate batteries for the first time in 2025.
Under Chung's watch, the Group has made huge strides towards becoming a leader in EVs and pioneering in smart city planning and various mobility solutions, including robots and Advanced Air Mobility. A joint venture with Aptiv will put robotaxis and self-driving delivery services on the road this year, while a partnerships with SK Group will see construction of a US$5 billion EV battery plan in the US.
He has been named Newsweek's Visionary of the Year in 2022, was honoured with the coveted Issigonis Trophy at the 2021 Autocar Awards, and most recently secured top spot in the MotorTrend's esteemed 2023 Power List, which ranks the 50 most influential people in the global automotive industry.
According to the MotorTrend, Chung was recognised for his skill in plotting the course of the Group's current success, his 'big-picture' thinking and his ability to initiate solutions traditionally regarded beyond the bounds of the automotive industry.
Chung, who has a net worth of US$3.3 billion, according to Forbes, has worked his way up the Hyundai ranks, from early roles in parts and service and through procurement, IT, sales, marketing and corporate planning.
As President of Kia Motors for four years, from 2005 to 2009, grew the company faster than Hyundai Motor after hiring former Audi designer Peter Schreyer. And he also launched the luxury brand Genesis in 2015, in his role as
4
Koo Kwang-mo
Total assets: US$118.1 billion
Affiliated companies: 73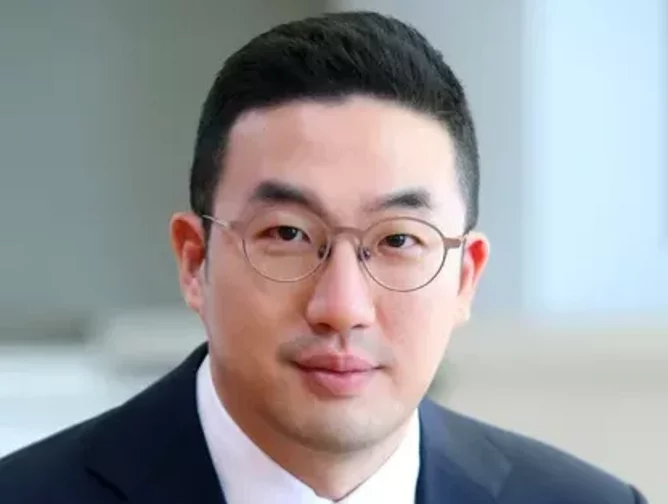 At 41, fourth-generation heir Koo Kwang-mo is the youngest chairman of a major Korean conglomerate
When fourth-generation heir Koo Kwang-mo took the reins as Chairman of LG Group in 2019, aged just 41, he became the youngest chairman of a major Korean conglomerate. He has served as CEO of LG Corp since 2018 following the passing of his uncle and former Group Chairman Koo Bon-moo.
Koo is the nephew and adopted son of the late Koo Bon-moo and was passed the role as part of a long-held tradition at LG of the eldest son taking control of the family business.
Over the past five years, Koo has restructured and streamlined the Group's portfolio – which includes major subsidiaries LG Electronics and LG Chem (the country's major chemical firm) bringing the Group closer to securing annual sales of US$153.65 billion and tripling its market cap.
This included a decision to close LG Electronics' mobile phone business, in order to focus on auto electronics and household appliances.
Under his five-year leadership, LG Group has witnessed solid growth, with market cap growing nearly threefold. Koo is now investing in new growth areas such as EV components, batteries, AI, and clean tech industries.
Koo kicked off his career within LG Group as an assistant manager in the department of finance, rising to finance manager at LG Electronics, and in 2009 being appointed Head of Home Entertainment Business for the group's division in New Jersey. Among other roles, he was director of the LG Synergy team and MD of the Management Group Team of LG before becoming CEO in 2018.
Proving perhaps how complicated the concept of Chaebol can be, Koo was recently sued by his stepmother and two stepsisters for an inheritance he received more than four years ago following the death of Koo Bon-moo.
Koo has a net worth of US$1.9 billion, according to Forbes.
5
Dong-Bin Shin
Total assets: US$87.7 billion
Affiliated companies: 85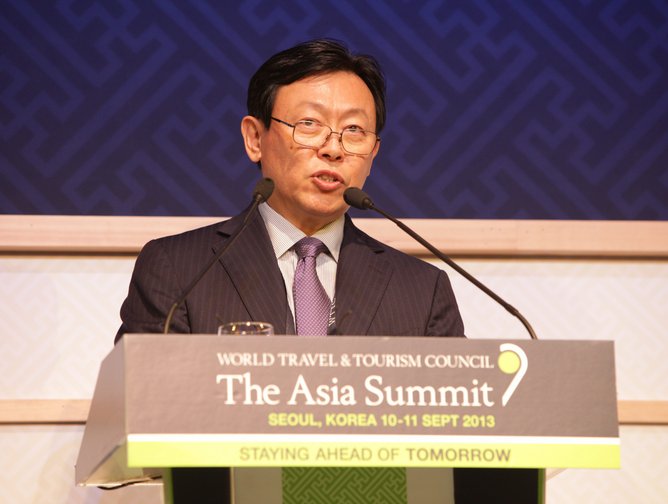 Dong-Bin Shin has been Group Chairman and CEO since 2012
As the younger son of Shin Kyuk-ho, who founded Lotte as a confectionery manufacturing in Japan in 1948, Dong-Bin Shin was first appointed CEO of the conglomerate in 2012.
The Lotte Group, which has interests in retail, chemicals, hotels, and more. has been embroiled in a high-profile feud over control of the group between Shin Dong-bin and the elder son Shin Dong-Joo.
He sits on the board of various Lotte Group affiliates, including Lotte Chemical, Lotte Chilsung Beverage and Lotte Confectionery and is ranked the highest-paid CEO among owners of South Korea's chaebols – raking in US$7.8 million from six Lotte Group affiliates from January to June 2022.
Shin started his career at Nomura Securities' London branch in 1980, where he spent six years as Executive Director in the institutional research and sales department.
Joining Lotte in 1988, he first worked at Lotte Chemical, before becoming Chairman of Lotte Korea in 2011 and CEO the following year. Under his leadership, the Group undertook a series of mergers and acquisitions, including acquiring Hi-Mart, Hyundai Logistics, The New York Palace Hotel, and the chemical arm of Samsung.
In a similar case to Samsung Chaiman Lee Jae-yong, Shin was sentenced to 30 months in prison in 2018 for a bribery case involving former president Park Geun-hye. But like Lee, in 2022, he received a presidential pardon.
He was then reinstated as Chairman and CEO and in a statement, said that he would "accelerate biotech, hydrogen energy and electric materials and other innovative businesses and actively participate in advancing the nation's competitiveness".
Last year, he pledged to inject US$30 billion over the next five years in the new growth-engine sectors (biotech, health and wellness, mobility and sustainability) and core industry segments including chemicals, retail and the travel business. Lotte Group has since founded Lotte Biologics and acquired a US-based bio facility.
He has been honoured with numerous awards, including the prestigious Officier de la Legion d'Honneur in 2007 and secured a CBE from the Queen in 2014. He earned his MBA from Columbia University and has a net worth of US$870 million, according to Forbes.
6
Jeong-Woo Choi
Total assets: US$67.9 billion
Affiliated companies: 38
Jeong-Woo Choi is the ninth CEO in Posco's 50-year history
When Jeong-Woo Choi was elected Chairman in 2018 of South Korea's largest steelmaker Posco, he became the ninth CEO in the Group's 50-year history and the first from a non-engineering background.
Choi, who was recently named CEO of the Year at the 10th Global Metals Awards by S&P Global Commodity Insight, is credited with driving the Group's new growth through its conversion to a holding company, and achieving the greatest performance since the firm's foundation in 1968.
Posco, which was a state-run company before being privatised in 2000, continues to lead Korea's steel industry, and under Choi's leadership, is moving towards becoming a world-class green materials provider, having embarked on numerous initiatives to reduce carbon emissions.
Under Choi's leadership, the conglomerate, which is credited with being the first steelmaker in the world to be recognised by Dow Jones for its excellence in sustainability for 13 consecutive years, is working on creating green steel. The steelmaker is also expanding its production bases for cathode and anode materials in the rechargeable battery material business, as it looks to achieve its goal of 300,000 tons of lithium production by 2030, and is looking to grow its secondary battery material business. Choi recently met with Ford CEO Jim Farley to discuss partnerships.
Choi is also halfway through his year-long post as the fourth CEO and Korean national to lead the World Steel Association, a global non-profit iron and steel trade organisation.
Joining the steelmaker in 1983, Choi has worked across Posco and various non-steel affiliates and in different areas including finance strategy planning and corporate strategy development holding increasingly senior roles. He headed up the Posco Value Management Officer in 2015 and is credited with spearheading the firm's restructuring procedures.
7
Kim Seung-youn
Total assets: US$56.7 billion
Affiliated companies: 91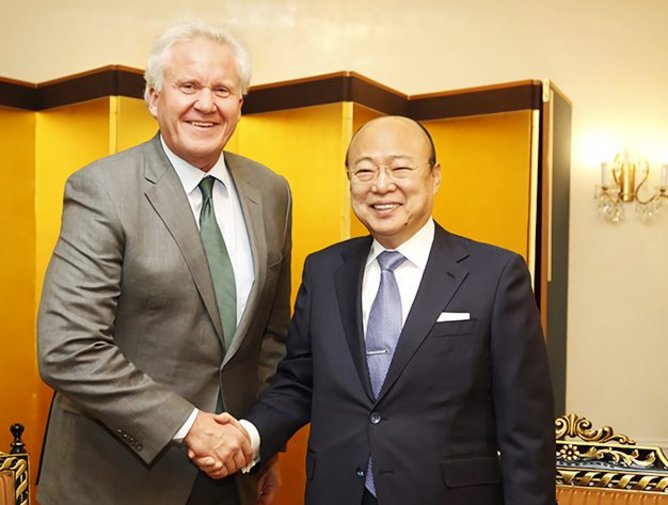 Hanwha Group Chairman Seung Youn Kim and GE Chairman Jeffrey Immelt meet in 2017
Having inherited Hanhwa at age 29 from his father, the conglomerate's founder, 71-year-old Kim Seung-youn has been steering the ship for four decades, and is credited with turning the company from a chemicals-focused one into an empire.
Established in 1952, Hanwha has grown into a conglomerate and Fortune Global 500 firm with a business portfolio that spans energy and materials, aerospace, finance and retail and services.
Under his leadership, the group has made numerous acquisitions including Hanyang Chemical Korea and Dow Chemical Korea, which he turned into one of the country's leading petrochemical exporting businesses. Following the 1997 Asian financial crisis, he acquired Daehan Life Insurance and turned it into a success; in 2012, he acquired Germany's then nearly bankrupt Q Cells and turned that into a global solar panel manufacturer; and in 2015, he acquired Samsung's defence manufacturing unit, making Hanwha the country's leading defence manufacturer.
Under his tenure too, Hanwha saw rapid global expansion, growing from just seven overseas branches in 1981 to 469 in 2020 and saw its total assets grow from 754.8 billion won when he was inaugurated in 1980 to more than 217 trillion won today.

Kim is now eyeing new growth engines in space, future mobility and eco-friendly energy, smart defence and digital financial solution sectors.
Renowned too as a private diplomat, in 2000, Kim was first appointed as chairman of Korea-US Exchange Council building relations with former US Presidents Bill Clinton and George W. Bush.
His rein hasn't been without controversy, however. In 2012, he was convicted of diverting funds from sound affiliates to sick ones he owned and was given a four-year prison sentence, but this was suspended in 2014.
He earned his bachelor's degree in business administration from the University of Louisiana and his master's in international politics from DePaul University. His eldest son Kim Dong-kwan was recently promoted to the group's Vice Chairman, following his run as CEO of Hanwha Solutions, and is expected to take on a bigger role in the group's management.
8
Huh Tae-soo
Total assets: US$54.1 billion
Affiliated companies: 93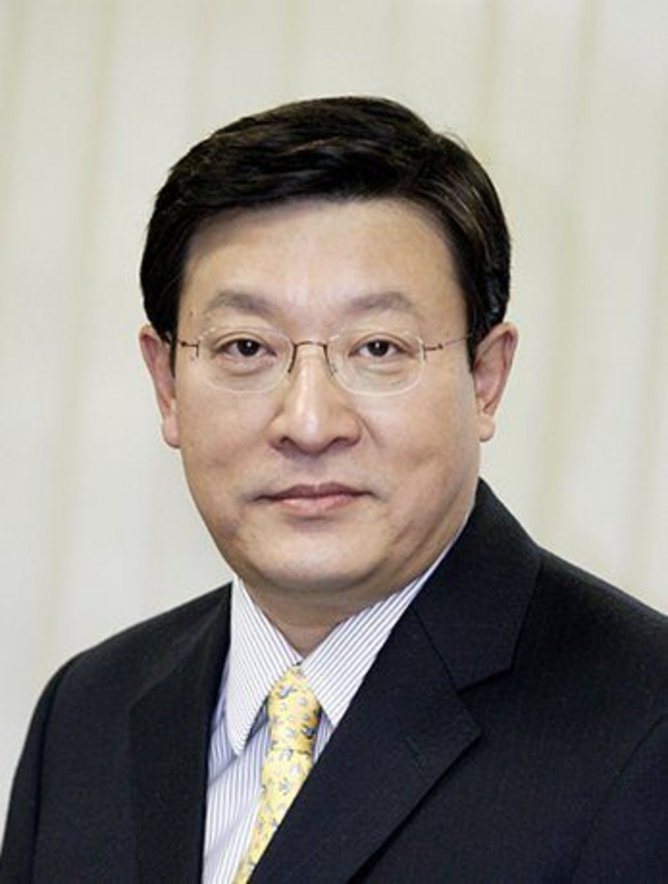 Huh Tae-soo took the reins of GS Group in 2020
Huh Tae-soo, the youngest brother of former GS Group Chairman Huh Chang-soo, was officially appointed CEO and Chairman of the retail-to-energy conglomerate in 2020, as the Group looked to undergo major transformation.
Widely known for his experience in the global market, as well as his emphasis on digital transformation, Huh has spent the last few years improving the group's business portfolio and bringing in new business models.
GS Group comprises subsidiaries and affiliates working across sectos spanning energy, power generation, retail, service, construction, and infrastructure. Among its many affiliates, GS Energy is developing clean energy technologies; GS Caltex exports refined oils, lubricants, aromatics, and polymers to 64 countries worldwide; GS Retail operates various retail properties; and GS E&C is a sustainable construction and engineering company.
Since Huh took the reins, the Group has been working with sister conglomerate Posco on various initiatives, including establishing a new company, Posco-GS Eco Materials, to explore secondary battery recycling.
Prior to this role, Huh led the GS Home Shopping since 2007 and played a leading role in the company's successful entry into overseras markets, and the mobile shopping business. Under his leadership, GS Home Shopping's sales nearly tripled, while its net profit doubled. He also served as executive of the investment banking team of LG Investment.
Huh has a degree in Jurisprudence from Korea University and earned his MBA from George Washington University.
9
Chung Ki-sun
President and CEO, HD Hyundai
Total assets: US$53.1 billion
Affiliated companies: 36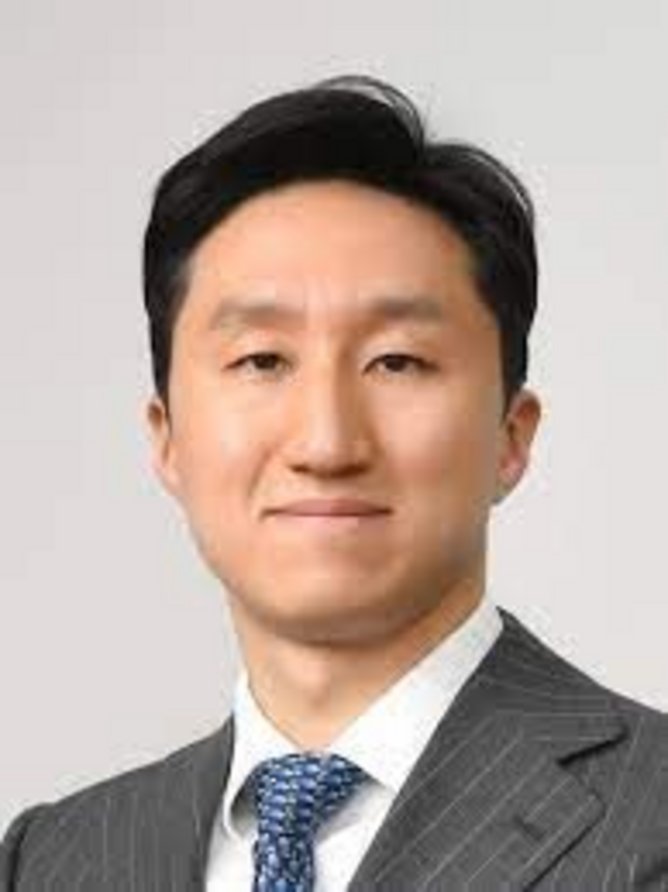 Chung Ki-sun is the third-generation CEO of HD Hyundai
Chung Ki-sun, the first son of Chung Mong-joon (the largest shareholder of HD Hyundai, which is formerly known as Hyundai Heavy Industries Holdings) was appointed the new CEO of the Group in 2021.
A graduate of Stanford University's business school, third-generation Chung joined HD Hyundai in 2013 as senior manager of the management planning team. After serving as head of the management support office, he was then promoted to VP of HD Hyundai in 2017 and for four years served as CEO of Hyundai Global Service (GS). Under his leadership, annual profits increased 178% in 2020, compared to 2017.
Founded by the late Chung Ju-Yung in 1972, HD Hyundai has transformed South Korea into the world's best shipbuilding powerhouse. As well as being the world's largest shipbuilding group, HD Hyundai is a major heavy equipment manufacturer with affiliates including Hyundai Heavy Industries, Hyundai Mipo Dockyard and Hyundai Heavy Industries.
Under Chung's direction, the Group is now shifting away from mainstay shipbuilding business and towards new growth engines, deploying green maritime technology in shipbuilding and in transporting and utilising ships and energy.
Chung's new vision, dubbed 'Ocean Transformation', comprises four areas of focus including future ships based on autonomous and remote digital solutions; an ocean data platform offering optimal navigation paths; a solution to expanding living spaces to the ocean; and a sustainable ocean energy ecosystem.
The Group is developing the world's first port-to-port autonomous navigation technology and has recently ventured into the offshore wind farm market – with Hyundai Electric, an electric power affiliate of HD Hyundai, signing a strategic partnership agreement with GE Renewable Energy, to produce nacelles and generators for GE's ultra-large wind turbines.
As Chung announced during CES 2023 earlier this year: "As a future builder, HD Hyundai will take the lead in driving a historic expansion of human territory and sustainable growth for future generations through a paradigm shift with Ocean Transformation."
10
Lee Sung-hee
Chairman and CEO, NongHyup
Total assets: US$47.2 billion
Affiliated companies: 53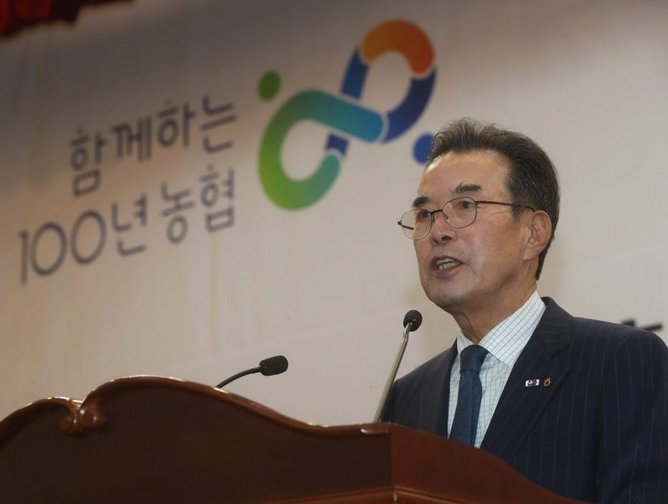 Lee Sung-has led NongHyup, the country's largest agricultural federation, for the last three and a half years
As Chairman of NongHyup (The National Cooperative Federation – NACF) for the last three and a half years, Lee Sung-hee leads the country's largest agricultural federation.
Established in 1961, the federation has grown to be one of the world's top 10 cooperatives with 2.3 million members and assets worth US$343 billion along with 120,000 employees. Among NACF subsidiaries are NongHyup Financial Group and NongHyup Bank.
Under his watch, NongHyup has launched a new vision, dubbed '100 years, Together with NongHyup', which is committed to building an organisation that grows together with farmers and the broader Korean society.
Lee, 73, is the former head of a Nonghyup chapter in Seongbnam, Gyeonggi Province, and has spent nearly five decades at the NACF, serving as the head of NACF audit committee from 2008 to 2015. He is highly respected in the organisation.
In his election campaign, Lee pledged to introduce salary, incentive and severance pay systems for farmers and improve the governance structure of NongHyup Financial Group and other subsidiaries.
Last year, Lee received an order of merit from the French government in recognition of his contribution to the agricultural sector.