Will moonlighting ever become accepted practice in India?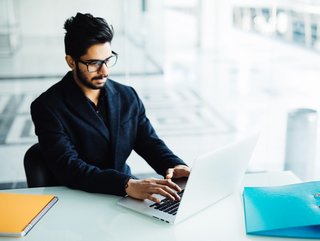 Getty
While not a new phenomenon, moonlighting has become a hot button issue across India with IT majors cracking down on it. Will the practice ever be accepted?
When Wipro fired 300 staff in October last year for working on the side for rival companies, they exposed the elephant in the room.
The company's zero tolerance reaction towards a widespread industry practice rocketed so-called 'moonlighting' to the top of the IT sector agenda.
Wipro CEO Rishad Premji's claim in a Tweet that the practice was "cheating – plain and simple" was quickly backed up by Infosys CEO Salil Parekh who said the company didn't support dual employment and had previously sacked employees who were found to be doing so.
Tata Consulting Services (TCS), India's top IT exporter, also condemned the practice, citing it as an "ethical issue" though said the company had not taken any action on employees for the practice.
And IBM India's CEO Sandip Patel also cited the practice as "unethical".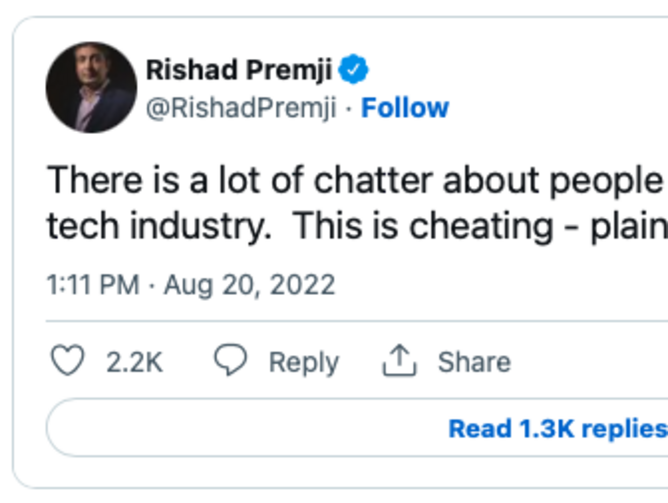 Wipro CEO's tweet
Rise of moonlighting amid WFH and digital skills demand
Moonlighting is the practice of employees working for an external paid project or projects, while being full-time on the books of a company and without the consent of the main employer.
While moonlighting has always been around, the practice has spiralled in recent months amid widening opportunity.

Not only has the shift to remote working made it easier for employees to take on a second (or third) gig (at TCS, around 40% of staff work from offices three times a week and 60% two times a week) but the acceleration of digital transformation means IT and digital skills are in red hot demand.
For some employees, it can be a way to supplement their income, or as a form of 'career cushioning' – to safeguard against job loss.

But for many, the practice is seen as violating the contract.
A new study from Indeed India finds that most employees (81%) do not wish to take up another job alongside the one they currently work in, citing such a practice as 'unethical'.
But of those who do agree with the practice, most are IT workers. While workers in sectors including healthcare (70%), manufacturing (79%) and FMCG (71%) are not in favour of moonlighting, nearly half (43%) of IT sector workers find the practice favourable.
Moonlighting practice a concern – productivity and confidentiality
For the employers though the practice is concerning, with Wipro and other India IT giants like TCS, IBM and Infosys saying it impacts employee productivity, and also matters of confidentiality.
Which is why most tech companies have 'moonlighting policies' in place, with strict clauses prohibiting employees from taking up external work, except with mutual agreement.
For Wipro, the issue is not about employees having a side hustle outside of business hours per se – but having one with a competitor, something that could lead to confidentiality issues.
Wipro chairman Rishad Premji told attendees at an All India Management Association event in Delhi last year that Wipro employees can have a "transparent dialogue" with the organisation about their second or weekend work, but that the company had discovered 300 employees who were working for "direct competitors" and as a consequence, there was "no room for them" in the company.
As a company that works with top global corporations, where client confidentiality is key, TCS sees the practice as highly concerning too, with TCS employees (of which there are 600,000) barred from working for any other organisation as part of the service contract.
Describing moonlighting as an "ethical issue", TCS CHRO Milind Lakkad told reporters that it is "against our core values and culture".
That said, TCS has taken no action against moonlighting staff, with COO N Ganapathy Subramaniam recently saying it was important to show empathy when dealing with such an issue, as it could ruin an employee's career.
At Infosys too, India's second largest IT firm, CEO Parekh admitted that where the company had found employees doing work in two different companies where there are confidentiality issues, "we have let them go in the last twelve months".
The IT major sent an email to employees following the widely reported Wipro firing reminding them of the employees' code of conduct and that disciplinary action, including termination, would be taken if anyone was found to be moonlighting.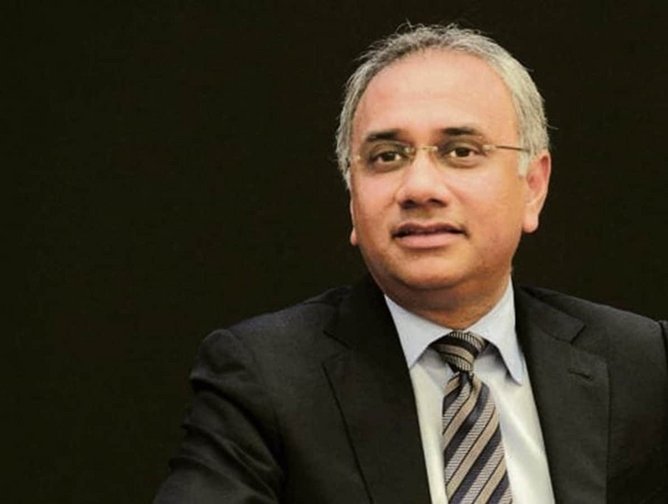 Infosys CEO Salil Parekh vocal on moonlighting / Credit: Infosys
Will moonlighting ever become an accepted practice?
But, while non-approving of dual employment, Infosys is smart enough to know that the practice does, and will, always exist and has therefore taken action to ensure some control over it.
The company said it was looking to introduce a policy that would allow employees to take up gig projects but only ones they would give approval for.
They have since set up a platform, Accelerate, where employees can look at other work opportunities beyond their primary roles, and would support employees for select projects but only after prior approval of the manager.
Other tech companies are similarly taking a more generous view of the issue and consider the practice part of the 'future of work'.
As India's fifth largest IT services firm Tech Mahindra says it is working on a policy that will allow moonlighting for its employees – something that is possible because Tech Mahindra is a digital company and not a legacy firm.
Speaking during a press briefing to publish its Q2FY23 results, Tech Mahindra CEO and MD C P Gurmani said he was fine with an employee taking another job as long as they are "productive" and that they comply with all "brand guidance, values, and customer relationship guidance" and "take permission and tell us what you are working on".
But in cases where employees may get into moonlighting without prior permission, then a 'no tolerance' policy would be followed.
Food delivery giant Swiggy recently announced an industry-first policy whereby employees are allowed to work on other projects outside their working hours or during weekends, as long as it doesn't hamper their productivity and isn't a conflict of interest.
And rumours are circulating that other tech companies plan to do the same.
Many of the IT majors are however more focused on getting their remote workers back to the office, believing this to have increased the practice.
Speaking just recently, February 2023, at the Asia Economic Dialogue in Pune, NR Narayana Murthy, co-founder of Infosys, warned against moonlighting telling young people they should not practice it nor insist working from home, but rather ensure that ethis and laziness are given special focus.