Why Singapore continues to be the smartest city in Asia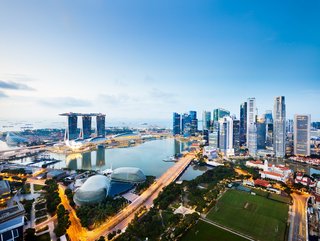 Getty Images
Singapore has again been crowned the top Asian city in the Smart City Index, and seventh worldwide – so, how is this tiny nation leading the continent?
Singapore is officially the smartest city in Asia.
That's according to the just-published 2023 Smart City Index by Swiss business school Institute for Management Development (IMD), which ranks 141 cities by how they use technology to address the challenges they face to achieve a higher quality of life.
While the top 10 ranking is dominated by European countries, with Zurich and Oslo taking the top two spots, Singapore and Canberra stand out as the two APAC outliers, with Singapore ranking seventh.
The Lion City was also identified as a 'super-champion' in the Index alongside Zurich, Oslo, Beijing, Seoul, and Hong Kong for continuous improvement in 'smartness' since 2019.
Smart cities around the world have made massive strides in their smart city initiatives and in adopting innovative smart technologies to make their cities more sustainable, convenient, and healthy places to live.
The UN predicts that 70% of the world's population will be living in cities and urban areas by 2050, meaning emissions will continue to rise annually and pressure on public services, from medical facilities to public transport to education will continue to mount.
Even smarter solutions will be needed to ensure populations live healthy and sustainable lives.
Unsurprisingly, according to the Index, Singapore excelled in areas such as health, safety, technology, mobility, education, and governance, with many citizens confirming the effectiveness of technology in improving aspects of city life such as medical services and lifelong learning opportunities.
Singapore scored especially highly on the use of CCTVs to create a safe environment, online platforms to aid medical appointment bookings, online access to job listings, online public access to city finance, and teaching of IT skills in school.
That said, the city does need improvement in certain areas, the Index revealed including improving its recycling services and boosting its cultural activities.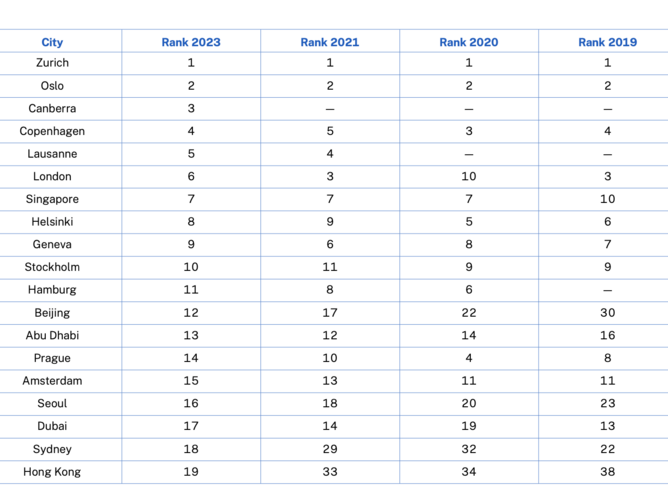 Top 20 smart cities – Smart City Index 2023
How Singapore is forging ahead in the smart city stakes
Since launching its Smart Nation initiative in 2014 and injecting uS$1.73bn into the project three years later, the city-state has introduced an array of smart technologies in both its public and private sectors.
Take the Smart Nation app, a mobile application providing citizens with a one-stop platform to access a wide range of government services and information. Among the smartest of smart features is the provision of real-time updates on emergencies and incidents happening in the user's area, and the feedback app, allowing citizens to report issues such as broken public facilities or littering.
Contactless payment technology has been widely adopted to efficiently direct movement and payments for Singapore's 7.5 million passengers who use public transports.
And to help reduce the pressure of Singapore's ageing population, a digital health system has been introduced. Online portal HealthHub allows patients to manage their health and wellness via features such as appointment booking and prescription refills, while Telemedicine enables patients to consult with doctors remotely via video or messaging.
The city-state is even using robotics to help reduce loneliness in the ageing population, with AI-powered 'chatbots' that talk to the elderly.
But Singapore's plans for future smart city status are even more impressive.
Future plans and inter-city collaborations
In 2021, the city-nation announced plans for a new eco-smart city that will be entirely vehicle-free. To be located in Tengah in the western region of Singapore, the planned forest city will be home to five residential districts with 42,000 houses.
And via its US$37m Green Building Masterplan, Singapore is aiming to make 80% of its buildings eco-friendly by 2030 – marking the most ambitious plan of its kind in the world.
Dr Bruno Lanvin, IMD's Smart City Observatory President, said the global landscape of smart cities is changing, and the index serves as a benchmark for progress in openness, innovation, inclusivity and sustainability.
"A new world is shaping up, and changes at the city level are a precious indicator of what the future may hold. Openness and inter-city collaboration may become key components of the next wave of globalisation."
And certainly, on the inter-city collaboration front, Singapore is proving its smart city metal as it works with other countries on pilots and projects.
Launched in 2019, the Singapore-China (Shenzhen) Smart City Initiative is a joint programme that sees the two countries collaborating on 14 new initiatives, with key projects exploring the use of advanced technologies and AI for the green economy and sustainability, such as cutting carbon dioxide emissions and improving battery management for EVs.
While the Abu Dhabi-Singapore Smart Cities Open Innovation Challenge, launched in 2021, is designed to accelerate smart city development and wider collaboration. Six Singapore companies are collaboration with Abu Dhabi entities including Adnoc and Masdar City to develop smart city pilot projects in the UAE emirate.
The pilot projects are expected to be completed in 2024 with the potential for city-wide implementation.