APAC fintech investment vibrant amid China's regs – KPMG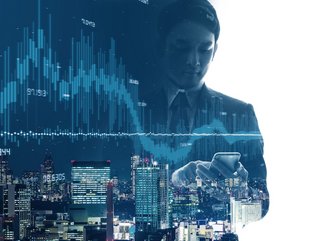 With fintech investment in APAC achieving record deals in 2021 despite China's regulatory activities, KPMG predicts investment will remain vibrant in 2022
Fintech investment in the Asia-Pacific region reached US$27.5bn in 2021 across a record 1,165 deals, according to KPMG's Pulse of Fintech H2'21 report.
This comes off the back of a remarkable year for the fintech market globally with a record number of deals in every major region, including the Americas, EMEA, and the Asia-Pacific, driven by the continued acceleration of digital trends, the widespread uptake and use of digital and contactless payments, and increasing demand for alternative payments models like buy-now-pay-later (BNPL).
But while the fintech investment in APAC nearly doubled in 2021, almost twice the US$14.7bn seen in 2020, amid a record deal volume, the total investment in the Asia-Pacific region fell well shy of 2019's peak, thanks in part to the continued regulatory activities in China.
China's ban of cryptocurrency transactions impacts fintech investment in APAC
In 2021, China continued to step up regulations in the fintech space, most notably through banning cryptocurrency transactions.
So, while cryptocurrency-focused solutions were a hot area of investment globally, with investment in blockchain and cryptocurrencies soaring past US$30m in 2021, shattering the previous high of US$8.2bn set in 2018, investment dropped significantly in China.
After banning cryptocurrency transactions in the first half of 2021, China fully banned bitcoin mining and facilitation of cryptocurrency trading in the second half of 2021. And India took steps to follow suit, introducing a bill that would ban the use of cryptocurrencies as a method of payment in the country, addition to related activities – causing a plummeting interest in crypto in Asia.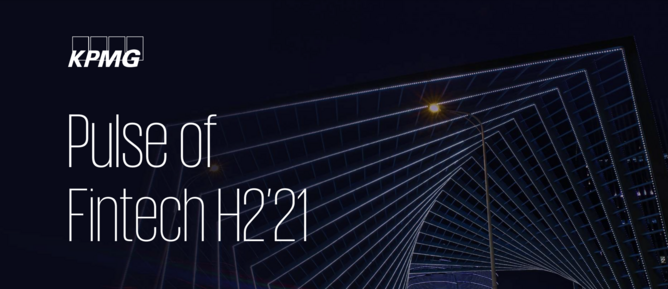 2021 fintech investment in APAC hot thanks to buoyant BNPL space
But it wasn't all bad news for the APAC region. Because, while the uptick in regulatory activity in China led some fintech investors to pull-back from China, it also raised the profile of other fintech hubs in APAC, including India and Singapore.
Among the top 10 deals in the region in 2021, China had just one – MediTrust Health, which ranked 9th with US$308m raised – while the other top nine deals were done in Japan, South Korea, India and Singapore.
1. Paidy – US$2.7bn, Tokyo, Japan – Lending sector – M&A
2. K Bank – US$1.1bn, Seoul, South Korea – Banking sector – PE growth
3. Pine Labs – US$600m, Noida, India – Payments/transactions sector – PE growth
4. Grab – US$500m, Singapore – Payments/transactions sector – reverse merger
5. Toss – US$410m, Seoul, South Korea – Institutional/B2B – Series G
6. BharatPe – US$395.5m, New Delhi, India – Payments/transactions – Series E
7. Razorpay – US$375m, Bengaluru, India – Lending – Series F
8. OfBusiness – US$325m, Gurugram, India – Lending – Series G
9. MediTrust Health – US$308.6m, Shanghai, China – Insurtech – Series G
10. Coverforce – US$302.3m, New South Wales, Australia – Insurtech – M&A
Real-time payments adoption was a strong driver of investment in Asia, particularly in South Korea and China. In Southeast Asia, reaching the unbanked and underbanked was a major priority. M&A accounted for the largest deals of the year, including the US$2.7bn acquisition of Japan-based BNPL firm Paidy by PayPal in the first half of 2021.
Also, in the first half of 2021, a US$600m private equity investment in India-based Pine Labs, and large VC funding rounds by India-based BharatPe (US$395m), Razorpay (US$375m), and OfBusiness (US$325m).
After dipping for two years straight, late-stage venture valuations for fintech roared back up to new heights, nearly hitting US$450m. Early-stage figures also surged indicating that the entire fintech venture ecosystem grew considerably heated in 2021. Simultaneously, venture deal sizes rose across the board, likely propped by growing participation from corporates and their venture arms, which participated in a record tally of 400 completed fintech transactions. Consolidation stayed relatively robust in tandem, although PE firms grew more active within fintech than previously seen before.
During 2021, interest in embedded finance propositions grew in the Asia-Pacific region, particularly in Southeast Asia where banks are increasingly looking for assistance to improve their embedded finance, digital wallet, and supply chain finance capabilities. Interest in BaaS solutions was also on the rise during the year with numerous banks and startups across the region focused on the issue – whether as service providers, partners, or potential clients. During the second half of 2021, HSBC took a strong step into the BaaS space, announcing a partnership with NetSuite to embed international payments and expense management into the company's SuiteBanking platform.
Also, over the last year, there's been a growing trend among scaling fintechs across the APAC region to reinvent themselves as data organisations, in order to attract more attention and investment – billing themselves as data providers that offer payments, lending, insurance, or other related activities rather than simply fintech firms.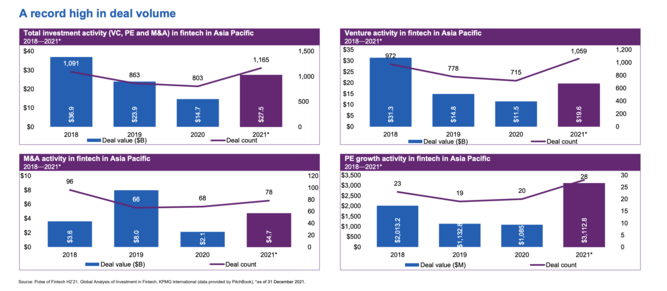 Looking ahead to 2022 – fintech investment in APAC looks vibrant
Entering 2022, the optimism for fintech investment both globally and in the region is strong. The BNPL space, which was incredibly hot in APAC during 2021 is expected to continue in 2022 given last year's announcement of the US$29bn acquisition of Australia-based Afterpay by Block (formerly Square) – a deal likely to close in the first half of 2022.
KPMG expects there to be continued growth of embedded finance, including banking and insurance, in the region, and growing investment from Asia-Pacific based countries into developing regions, including the Middle East, Africa and Southeast Asia. And Singapore will continue to grow on the radar of companies looking for a base from which to expand outside of the Asia-Pacific region.
Global investors are starting to recognise the enormous size and scale of the Asia-Pacific fintech market, which is "going to drive a lot of activity heading into 2022 as both investors and companies look to gain a share of the action in the region", says Anton Ruddenklau, global fintech leader and head of financial services advisory, KPMG in Singapore.
"Singapore and India could be big winners on the investment front as investors and companies that might have gone to China look for opportunities elsewhere in the region."
During the second half of 2021, the Monetary Authority of Singapore launched a series of initiatives aimed at strengthening the AI abilities of Singapore's financial services sector, including NovA! – a technical platform to help financial institutions assess the environmental risks of companies and Veritas – an AI governance program meant to help financial institutions utilise AI and data analytics.
However, optimism for regional fintech investment is also thanks to China's fintech plan. In January, the People's Bank of China issued the Fintech Development Plan for 2022-2025, which outlines its fintech development principles for the upcoming four years as digitally driven, wisdom for the people, green and low carbon and fairness and inclusion.
The plan underlines the country's strong emphasis of fintech development on technology, digital transformation, data security and support to the real economy. "Looking at the investment and financial markets, technologically-advanced fintech enterprises that offer solutions on data security, green finance and tackling the financial difficulties of small and medium-sized firms are expected to attract increased attention," says Andrew Huang, partner and fintech leader, KPMG China.
Read KPMG's Pulse of Fintech H2'21