EY says consumers in India most environmentally conscious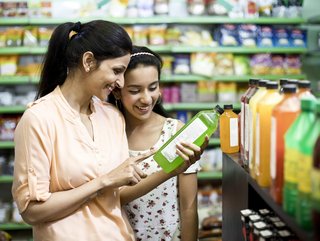 Consumer priorities have shifted post-pandemic with Indians the most environmentally conscious and experience driven globally, reveals EY research
While concerns over the rising cost of goods and services globally are impacting consumer spending, in India, consumers are not only more positive about the financial situation compared to the global average, but also most environmentally conscious consumers when it comes to spending.
That's according to the ninth edition of EY's Future Consumer Index for India, which reveals that 77% of Indian consumers expect positive changes in the financial situation over the course of the next year, significantly higher than their global counterparts, at 48%.
This comes despite rising costs impacting purchasing decisions, particularly in emerging markets, with 64% of Indians citing affordability in affecting their choices, less than South Africa (77%) but more than China (42%) and the US (50%).
In India, this impacts the lower-income earners the most, at 72%, followed by the high-income group at 60%, and the middle-income group at 58%.
Such uncertainty around managing rising living costs is driving more than four in five Indians (80%) to save more money than in the past, with 50% setting a goal to save rather than spend.
Less overall spend from Indian consumers means retailers and brands must work harder to ensure they are the recipients of such spend, and to achieve this, they must understand the spending priorities of Indian consumers.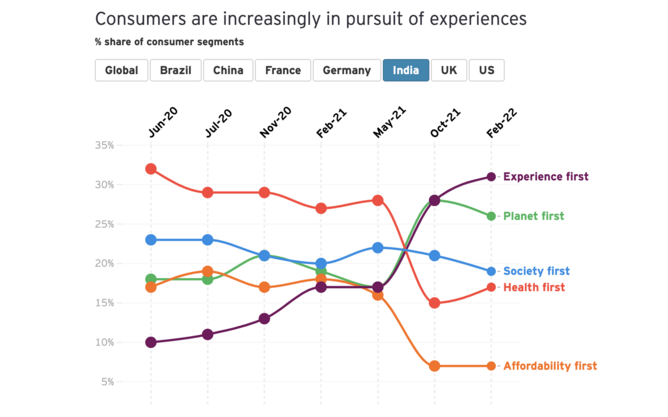 Experiences, health and sustainability priorities for Indian consumers
Research from EY reveals that of the five key broad spending priorities – planet first, affordability first, experience first, health first and society first – experience has seen the biggest increase, doubling in priority since 2020.
And experience is the biggest priority when Indian consumers (31%) decide on where to spend, despite being the smallest at the start of the pandemic.
Experience seeking consumers are however less loyal, according to Angshuman Bhattacharya, Partner, EY India, and with increasing price sensitivity and an inflationary environment, companies would need to work harder to retain them. "This calls for FMCG companies to look at their revenue and margin waterfalls and squeeze outspends across the value chain to drive profitability," says Bhattacharya.
The planet is the second priority for Indians, with a very high 70% of Indian consumers giving importance to sustainability when making purchases, compared to a much lower 37% global average. In fact, more than anywhere in the world, consumers in India pay more attention to the environmental and social impact of their purchases in the long term.
"Customers are getting increasingly environmentally conscious and are asking the brands that sell to them to demonstrate the values that align with their own," says Angshuman.
Health and wellbeing are priorities too, with more than half (54%) of Indians having set physical health and wellness as a goal for the next 2-3 years. Four in five Indians say they are being more cautious about their physical health in the long term, followed by mental health at 78%.
This backs up the fact as to why the Indian consumer is willing to pay a premium for high-quality and organic food, even during inflationary pressure.
This behavioural change of consumer priorities since the pandemic, to better self and better environment, is likely to drive the buying decision in the long term, according to EY research.