Who is Vanessa Hudson, the first female CEO of Qantas?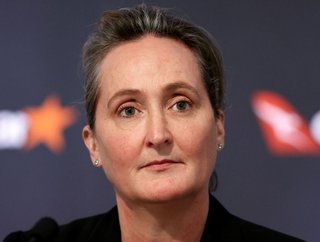 Vanessa Hudson has been named successor to Qantas CEO Alan Joyce
As the finance chief who helped Qantas return to profitability following the pandemic, Vanessa Hudson is named CEO from among 40 candidates globally
Given Vanessa Hudson's role as Qantas CFO in successfully steering the airline back to profit post-pandemic, her promotion to CEO, announced earlier this week, is a move few are surprised by.
Least of all, Vanessa herself, who said during her first news conference as CEO Designate that she comes to the role with "an understanding of this organisation that is very deep".
The long-time Qantas executive, who takes the helm in November when current CEO Alan Joyce, 55, retires, becomes first-ever female chief executive in the airline's 103-year history.
Vanessa was selected from among almost 40 candidates globally that the airline short-listed for the top job, Chairman Richard Goyder says.
"A lot of thought has gone into this succession and the Board had a number of high-quality candidates to consider, both internally and externally."
Since the announcement last year of Joyce's retirement after 15 years at the top, rumours have been swirling about who would take over the Australian flag carrier.
Goyder said in November that the airline was considering strong internal candidates but that it would also be canvassing the external market.
Along with Vanessa, among strong candidates considered for the top job were Qantas Loyalty CEO Olivia Wirth, who has clocked up 16 years as an executive at the airline, and external executive Cam Wallace – the former Air New Zealand Chief Commercial Officer, who is set to join Qantas this July as head of the international division.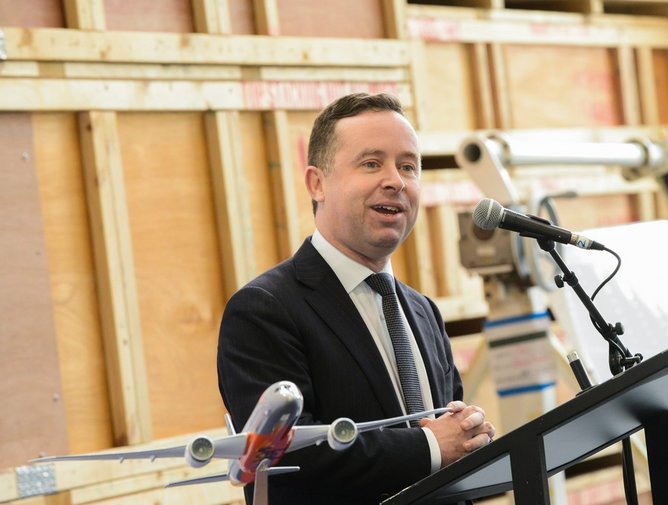 Widely considered one of the best airline executives in the world, Alan Joyce has held the top job at Qantas for 15 years
Vanessa joins growing list of women leading airlines
While historically, Vanessa was a less likely choice for the top job given that just 5% of airlines are led by women, according to IATA, she joins a small but growing list of women spearheading an airline – as diversity continues to dominate many boardroom agendas.
Earlier this year, Dorothea von Boxberg was appointed new CEO of Brussels Airlines, while last year Annette Mann took the helm of Austrian Airlines, Marjan Rintel was named CEO of KLM, the world's oldest airline, and Guliz Ozturk took over at Pegasus Airlines, marking the first time in Turkish civil aviation history that a woman helmed an airline.
Qantas rival Virgin also has a female CEO, Jayne Hrdlicka, in place since 2017, while Irish air carrier Aer Lingus appointed Lynne Embleton as chief executive in 2021, and in the last few years, Iran Air and RwandAir have put in place their first-ever female CEOs – Farzaneh Sharafbafi, and Yvonne Makolo, respectively.
Vanessa Hudson – chief finance role, decades of executive experience
Vanessa, who has nearly three decades with the airline and has served as CFO since 2019, was the standout candidate, according to Goyder, with her handling of the finance and treasury portfolio during the Covid-19 crisis proving "outstanding".
As CFO since 2019, Vanessa supported CEO Alan Joyce during the pandemic when travel demand plummeted by raising US$365m to tide the airline over.
Qantas returned to profitability in July-December 2022, for the first time in nearly three years.
"Vanessa has a deep understanding of this business after almost three decades in a range of roles both onshore and offshore, across commercial, customer and finance," Goyder says. "She has a huge amount of airline experience and she's an outstanding leader."
Vanessa joined Qantas 28 years ago and has held increasingly senior roles, including chief customer officer, SVP for the Americas and New Zealand, and since 2019, Chief Financial Officer.
Her responsibilities have spanned everything from sales channels, revenue management and network planning, to transformation in catering, airports and network, as well as CFO responsibilities, from procurement to treasury to M&A.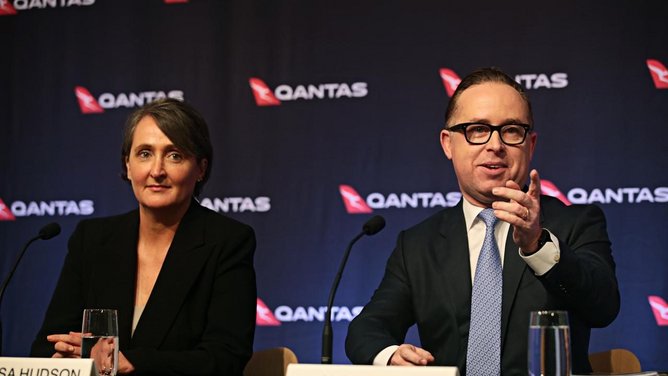 CFO Vanessa Hudson will replace CEO Alan Joyce when he retires in November
Big boots to fill – what is Alan Joyce's legacy?
Vanessa does have big boots to fill, however, replacing a CEO who is widely considered one of the best-ever leaders to steer an airline.
Alan, who is one of the longest-serving CEOs among Australia's listed companies, has been described as the "most successful CEO of Qantas for many decades" by Emirates President Tim Clark and as "probably the best airline executive in the world" by Michael Kaine, the Transport Workers Union's national secretary.
And Goyder told shareholders last year that Joyce had "done an incredible job through the pandemic and now into the rebuild".
While originally planning to step down in 2020, Joyce was asked by the board to see out the pandemic-induced crisis.
Under Joyce's leadership, the airline returned to profit following the pandemic, reporting a record US$1.4bn underlying profit for the six months to 2022.
During his 15-year tenure, the airline launched and many ambitious projects and investments, among these, Project Sunrise, thew world's longest flight, between Melbourne and Sydney and NYC and London, which, when launched in 2025, will clock over the 19-hour mark.
He has also continued to invest heavily in aircraft and service and lead on sustainability, recently announcing plans to develop a sustainable aviation fuel (SAF) industry in Australia and earmarking US$20m in funding from its partnership with Airbus.
This forms part of Qantas' goal to meet its 2030 target of 20% SAF, with expectation that around 60% of its fuel could be SAF by 2050, as the airline looks to become net zero.
It hasn't all been plain sailing for the Qantas executive, though. In recent years, he has become the focus of blame for airline disruptions and cancellations and for more than a decade has faced union campaigns for higher wages.