TikTok is world's fastest-growing brand, WeChat is strongest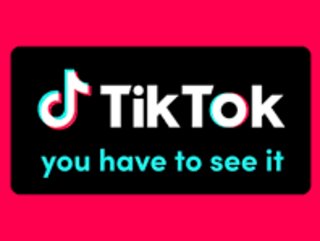 Tripling in brand value over the past year, China's TikTok has been named the world's fastest-growing brand, while WeChat retains world's strongest brand
That's according to the just-released Brand Finance's Global 500 2022, which each year puts 5,000 of the biggest brands to the test.
Tripling in brand value over the past year, entertainment app TikTok takes the crown for the world's fastest-growing with a staggering 215% growth – increasing from US$18.7bn in 2021 to US$59.0bn this year.
Claiming 18th spot among the world's top 500 most valuable brands, TikTok is the highest new entrant to the ranking.
Little surprise given TikTok crossed the one billion user mark in 2021 and became the most downloaded app across Android's Google Play store and Apple's App Store – in large part thanks to the pandemic.
There has been exponential growth in entertainment, social media and streaming services during the pandemic, with TikTok's rise testament to how media consumption is changing.
With its offering of easily digestible and entertaining content, the app's popularity has spread across the world, acting as a creative outlet and providing a way for people to connect during lockdown.
According to David Haigh, CEO of Brand Finance: "Media consumption has increased throughout the COVID-19 pandemic, but – what is more – the way we consume it has irrevocably changed. In order to compete in this evolving marketplace, media organisations have invested heavily in their brands – from content acquisition through to user experience."
And TikTok's meteoric growth is the proof in the pudding – a brand that has gone "from relative obscurity to internationally renowned in just a few years and shows no signs of slowing down".
The app's global growth has expanded beyond its original Gen Z base, with strategic partnerships such as its sponsorship of the UEFA Euro 2020 tournament exposing the TikTok brand to other demographics.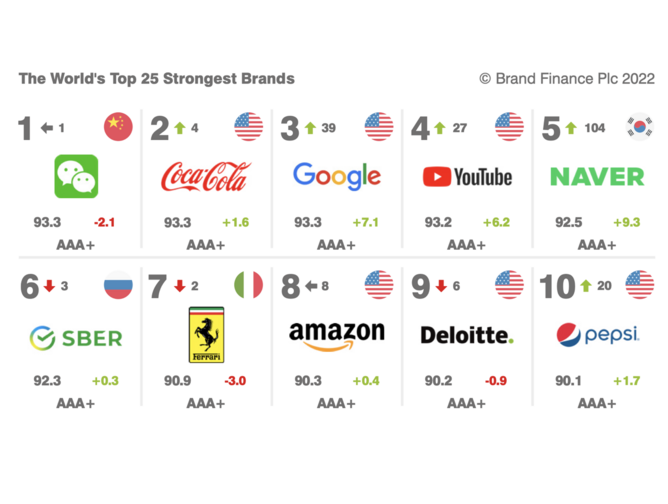 WeChat retains crown as world's strongest brand
Chinese app WeChat has retained its crown as the strongest brand for the second consecutive year. With a brand strength score of 83.3% and AAA+ rating, WeChat beat brands such as Coca-Cola (#2), Google (#3), Ferrari (#7), Amazon (#8) and Deloitte (#9).
Developed by tech giant Tencent, the multi-purpose app continues to play "an integral part in day-to-day life in China, with its all-encompassing set of services allowing customers to message, video call, order food and shop", according to Brand Finance research.
And it is this "entrenchment in people's lives" that has helped it to achieve strong scores in reputation and consideration among Chinese consumers. The app even played an integral part in the country's fight against COVID-19, with more than 700 million people using its services to book vaccinations and tests.
Chinese brands making great strides
Brands from the US and China continue to dominate the Brand Finance Global 500 in 2022, with more than two-thirds of the total brand value in the ranking attributable to the two countries, with Chinese brands accounting for nearly one-fifth (19%) of the top 500.
Nearly half (11) of the world's top 25 most valuable brands are Chinese, including Ping An, TMall, Taboo, Huawei and TikTok. This is ahead of the US which has just eight in the top 25, though US brands do dominate the top five, among them Apple, Amazon, Google, Microsoft and Walmart.
Chinese automobile brands have also "made great strides and bucked the global trend of negative growth in the sector", according to the report. With a brand value of US$6.4bn, China's leading new-energy vehicle manufacturer BYD is the fastest-growing brand in the sector with 100% increase in brand value. China has a rapidly growing EV market and leading EV brand BYD has seen sales accelerate 232% in 2021 with 603,783 sold.
What has slowed China's brand value growth is the struggles that are present in the real estate sector. Out of the top 10 fastest-falling brands in the ranking, six are Chinese real estate companies, while Evergrande has dropped out of the Brand Finance Global 500 altogether.
Unsurprisingly, the tech sector is once more the most valuable industry worldwide ahead of retail, with a cumulative brand value of close to US$1.3 trillion.
While the top most valuable tech brands are US-headquartered including Apple and Microsoft, South Korean brand Samsung Group and Chinese brand Huawei (#9) follow closely behind with brand values of US$107.3bn and US$71.2bn brand value, respectively.
A leading global provider of information and communications technology infrastructure and smart devices, Huawei has moved up six places in the rank having seen growth of 29%, thanks in part to the tech firm heavily stepping up investment in both domestic technology companies and turning its focus to cloud services.