Analysis: India's economy enjoying 'Goldilocks' moment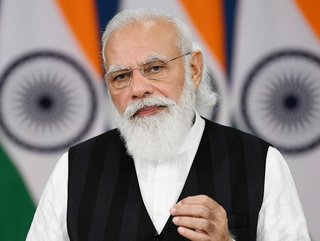 India PM Narendra Modi has a commanding lead right now / Credit: Prime Minister's Office India
From space missions to trade alliances and peace with China, everything India touches seems to turn to gold right now, but will new GDP figures agree?
It's been a stellar period for India, both literally and metaphorically, and now all eyes are on the GDP figure due to be announced on 31 August.
In the last week, it seems India could do little wrong. The country became the first nation to successfully land its rocket on the south pole of the moon, led the BRICS summit that saw six more countries being invited to join, made peace with China over border disputes, and even got its first athletics world champion.
These undoubted successes aside, the real star could be India's upcoming GDP figures, with some analysts suggesting growth could even surpass the 8% mark being touted by the Reserve Bank of India for the first quarter of FY24.
According to the Ministry of Statistics and Programme Implementation (MOSPI), the Indian economy expanded 6.1% year-on-year in Q1 2023, well above market forecasts of 5%.
The International Monetary Fund (IMF) has projected India's growth at 6.1% in 2023 – an upward revision due to stronger than expected growth in Q4 2022.
This expansion has been driven by higher consumption from India's growing Middle Class, exports of services, and increased manufacturing. There has also been an increase in government investment, with PM Narendra Modi non doubt having one eye on next year's general election – taking place in April or May 2024.
Modi has a commanding lead right now, and his space mission success and strong BRICS showing will no doubt increase his popularity further – which could be cemented with strong economic data expected this week.
These are important times for the world's most populous nation as it seeks to take advantage of its international trade strength and leverage the opportunities being presented by the services sector (which accounts for more than half of India's GDP) and artificial intelligence.
According to the India Brand Equity Foundation (IBEF), India's services exports rose by 42% to US$322.72 billion in 2022-23, and are expected to reach US$400 billion in 2023-24. Leading services industries in the country are telecommunications, IT, and software.
However, there are outside factors that are still holding India back and could dent the growth trajectory.
In July, Deloitte India pointed to uncertainties around actions of the central banks of major economies, and their seeming constant interest rate hikes, plus the fluctuating price of oil.
The consultancy also suggested that India was having a "Goldilocks" moment – with the economy running not too hot, not too cold, but just right.
All eyes will be on those latest GDP figures to see if India's economic fairytale continues.