Top 10 Asia restaurants, from Tokyo's Den to Bangkok's Sorn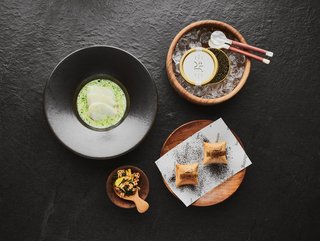 From Tokyo to Bangkok, with cuisines spanning Cantonese, Thai and German, we highlight Asia's top 10 places to eat, as per Asia's 50 Best Restaurants
Asia's 50 Best Restaurants have been announced for 2022, with Tokyo's Den crowned number in Asia in recognition of its unique blend of tradition, innovation and playfulness.
Now in its 10th year, the 2022 list welcomes a record 16 new entries. Japan leads with 11 entries, followed by Thailand with nine and Singapore with seven.
Here, we explore the top 10 restaurants in Asia, a collection of Michelin-starred eateries spanning four countries – Thailand, Japan, Singapore and Hong Kong – and six cuisines, from Japanese and Thai, to French and German.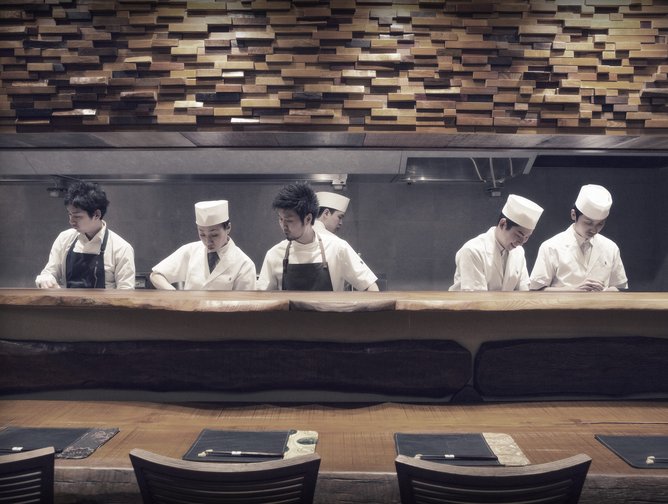 1 Den, Tokyo
Crowned best restaurant in Asia, Two Michelin Star Den is a contemporary restaurant that has been popular with the Tokyo crowd since its debut in 2007, although its location has since changed to central Tokyo. Den reflects the personality of its chef-owner, Zaiyu Hasegawa, who recently opened a new Tokyo restaurant with chef Kawate of Florilege, taking a playful, personal approach to kaiseki cuisine. Den spotlights elevated Japanese cuisine focused on hyper-seasonality and is renowned for its creative presentations and surprising twists on traditional dishes. Signatures include the 20-ingredient Den salad, featuring ants, and the Dentucky fried chicken wings stuffed with steamed mochi rice, and dishes are expertly paired with wine, premium sake, spirits and tea. All vegetables used are grown without pesticides or chemical fertilisers. The dining room features an open-plan kitchen, as well as a long 12-person table, and the restaurant is known to deliver the warmest of hospitality.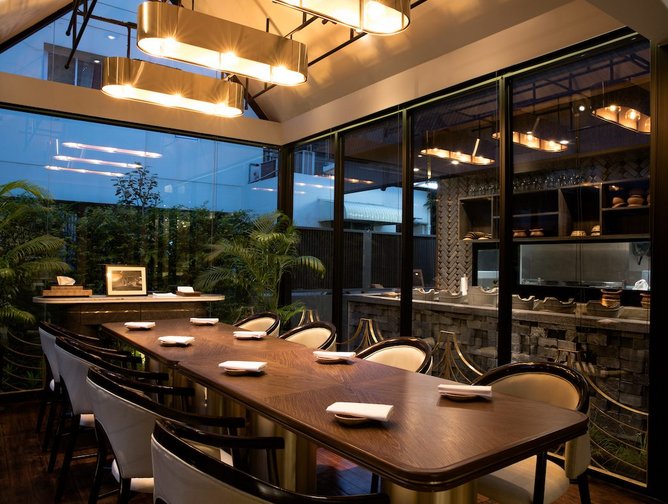 2 Sorn, Bangkok
Described by Asia's 50 Best Restaurants as delivering 'unmatched southern Thai food with impeccable service", Two Michelin-starred Sorn is literally and figuratively the hottest restaurant in town, known for its super-spicy dishes and five-month waiting list. Housed in an elegant two-storey 90-year-old house in central Bangkok with luxe décor inspired by Thailand's tropical forests, Sorn is led by patron chef Supaksorn 'Ice' Jongsiri, who has translated his grandmother's cooking and other long-lost recipes into innovative dishes. Not only are all dishes explosive in flavour and spice, but they are delivered at certain controlled temperatures, with the aim of creating a gustatory sequence, like the seven-coloured lobster from Phuket served chilled to two degrees Celsius. Sorn focuses on traditional cooking techniques, from clay pot and charcoal to leave-steaming and fermentation, with the 22-course tasting menu featuring dishes like taro soup, grilled crispy pork belly, sand mole crabs and gu fish yellow curry. All dishes have a story or memory that the team pass on to diners. Ingredients are sustainably sourced from a network of farmers and fishermen across 14 Southern Thai provinces.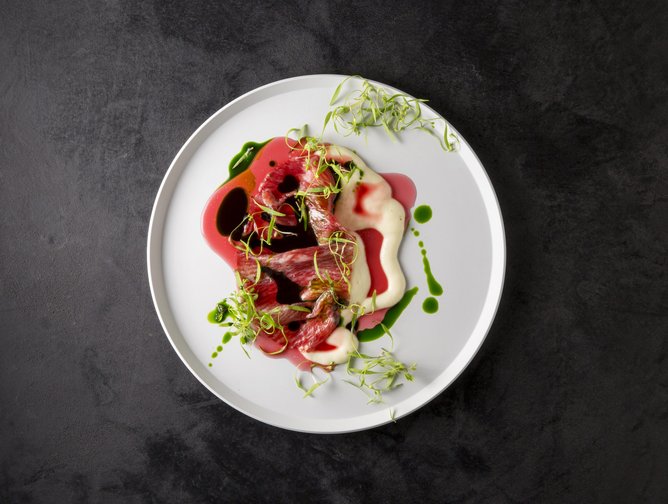 3 Florilege, Tokyo
Located in the heart of Tokyo, Two Michelin-starred and Green Star Florilege (meaning 'anthology' in French) delivers a dramatic setting featuring an open kitchen with a stone counter and seating where diners get a "theatrical ringside view on creativity", according to Asia's 50 Best Restaurants. Japanese chef and owner Hiroyasu Karate delivers a Japanese-inflected modernist French cuisine menu featuring innovative and hyper-seasonal dishes that fuse French and Japanese ingredients and contrast texture and temperature. Passionate about sustainability, ingredients are locally sourced, and every part of each ingredient is used, giving rise to creative dishes made from beef off-cuts and sauces made from vegetable scraps. Expect eggplant fritters plated on charred timber, manju dumplings stuffed with pigeon in port, and beef carpaccio taken from the meat of mature, 13-year-old breeding cows. Dishes are paired with French and Japanese wines, or with smoked wine or herbal cocktails.
4 Le Du, Bangkok
Refined Thai cooking with an eye towards France is how Asia's 50 Best Restaurants sum up Le Du, a name that may sound French but derives from the Thai word for 'season'. That's because seasonal Thai ingredients take centre stage at the One Michelin-starred restaurant, which are delivered via a tasting menu of regional dishes with a modern French slant. Le Du is led by talented Thai chef and certified sommelier Thitid 'Ton' Tassanakajohn, who has helmed New York restaurants including Eleven Madison Park and Jean-Georges, and also leads four more Bangkok dining concepts including fine dining Thai-focused Nusara (#10), an eatery in Taipei and a noodle bar in the Philippines. At Le Du, ingredients are seasonal and sourced locally with the menu changing every few months bar a few signatures including khao kluk kapi, splayed river prawn served with shrimp paste-laced brown rice risotto. Among dishes on the current menu, which includes four and six-course tasting menus, charcoal-grilled pork jowl and soft-shell crab are stand-outs.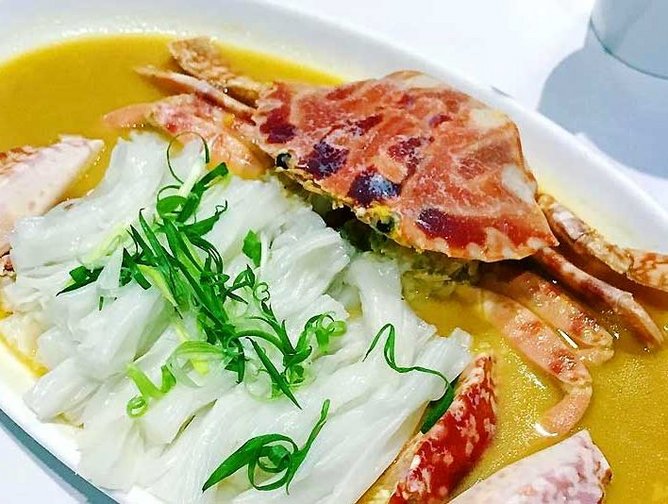 5 The Chairman, Hong Kong
Now 13 years old, The Chairman remains one of the most influential Cantonese restaurants in Hong Kong with its dishes renowned as the Cantonese gold standard. The menu is ingredient-driven, and concept-inspired, resulting in the most creative of dishes. At the helm is entrepreneurial chef restauranteur Danny Yip, who has previously owned restaurants in Australia, and who is dedicated to championing and preserving the traditions of the cuisine. Seasonal dishes are inspired by forgotten luxury ingredients from southern China, like the signature flower crab, a delicacy from the South China Sea, steamed in aged Chinese wine, chicken fat and clam juice. A la carte and set tasting menus feature creative dishes like pork belly sticky rice cakes with Chrysanthemum sugar, smoked baby pigeon with Longjing tea, and razor clams steamed with aged lemon. Ingredients are mainly organic, grown on Yip's own farm, or sourced from small suppliers and local fishermen, while oils, including shrimp, chicken and lemongrass, are all produced in-house through slow cooking.
6 La Cime, Osaka
Japanese produce meets French techniques at La Cime (the French word for 'peak'), a Two Michelin-starred restaurant in the Hommachi district, that boasts a Scandinavian minimalist feel and an unassuming atmosphere. A protégé of Three Michelin-starred Le Meurice in Paris, French-trained chef Yusuke Takada is passionate about seasonal produce, often sourcing ingredients like pork and citrus fruits from his birthplace, the southern island of Amami Oshima, and he is involved in an initiative to restore the population of pigs native to the island. La Cime spotlights seasonal ingredients, so dishes on the 13-course menu change regularly, bar the signature dish – Boudin Dog, batter-fried boudin noir (blood sausage) in dough coloured black with edible bamboo charcoal. The tasting menu delivers an assortment of amuse bouche, hors d'oeuvres, meat, pre-dessert, dessert and petits-fours, paired with wine, Japanese sake, and cocktails, with dishes often utilising ingredients like yellowtail tartare, scallops, quail egg, trout's roe, venison and cartilage of pig.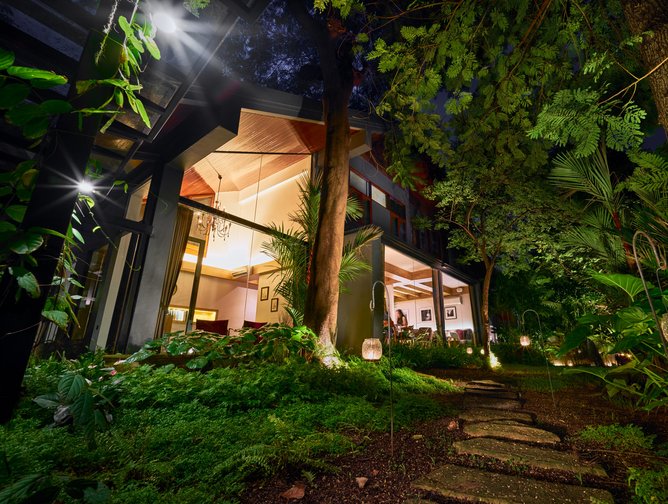 7 Suhring, Bangkok
Offering "precise yet whimsical creations", according to Asia's 50 Best Restaurants, Suhring is the brainchild of German identical twins Thomas and Mathias Suhring who garnered acclaim from their previous work at Bangkok's Two-Star Michelin, Mezzaluna, before setting up Suhring in 2016. Located in a charming 1970s villa bang in the heart of Bangkok, Suhring features four different dining spaces, including a glasshouse that overlooks a lush garden and an open kitchen, and delivers traditional German fare elevated to haute cuisine and with a contemporary spin. The twins embrace local, seasonal products and luxury ingredients, like Doi Inthanon crayfish from the highest peak in Thailand, and change the menu every 2-3 months. Three, five or eight-course menus feature dishes like blue lobster with butternut squash and vanilla, mackerel with apple and black pudding, and 10 day-aged duck with celeriac and Perigord winter truffle.
8 Odette, Singapore
Helmed by acclaimed French chef Julien Royer, who previously ran Jaan in Singapore and also helms Louise in Hong Kong and French brasserie Claudine in Singapore, six-year-old Three Michelin-starred Odette – named after Royer's grandmother who inspired him to cook – delivers "timeless French fine-dining created with umami-rich Asian ingredients", according to Asia's 50 Best Restaurants. Royer sources the highest quality products from specialist artisans across the world, which set the stage for elegant dishes featuring unique combinations and contrasting flavours. Signatures include Normandy brown crab with wasabi oil and Nashi pear and Kampot pepper-crusted pigeon with seasonal garnishes. Located in the historic National Gallery Singapore, Odette's dining room comes in a soft colour palette with luxurious velvet banquettes, starched white tablecloths, and a stand-out glass-enclosed kitchen.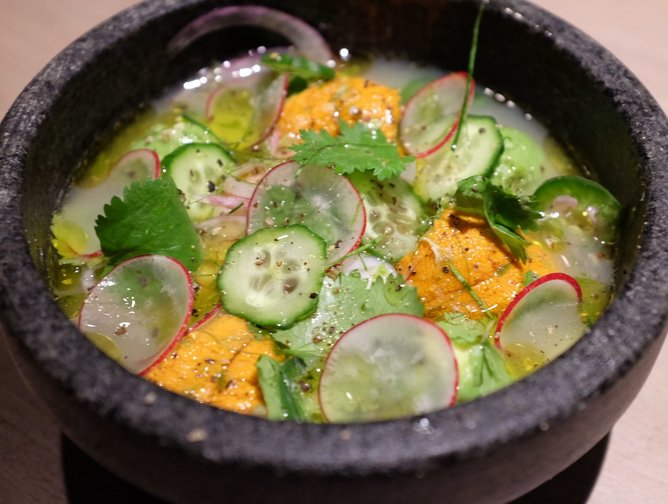 9 Neighborhood, Hong Kong
Possibly the most unassuming on the list, given its unlikely location – down a hidden laneway alongside bars and wet markets – and lack of website or marketing, Neighborhood is described as a "low-key local serving comforting European fare", according to Asia's 50 Best Restaurants. Chef-owner David Lai trained and worked at fine-dining restaurants in San Francisco and in his native Hong Kong, including Spoon by Alain Ducasse, before opening pan-European eatery Neighborhood in 2014. He also owns acclaimed Fish School in Sai Ying Pun. Home-style French cooking is at the heart of the restaurant, which takes a seasonal, produce-first philosophy, delivering an ever-changing tapas-style menu, with a focus on local seafood, and large platters for sharing. Among signature dishes is salt-baked local chicken atop aromatic morel mushrooms and crisped rice, which needs to be pre-ordered, as well as warm vegetable casserole and homemade pastas. The wine list is limited with diners able to bring BYO.
10 Nusara, Bangkok
The latest venture from entrepreneurial chef Thitid 'Ton' Tassanakajohn, the man behind One Michelin-starred Le Du (#4 above), is named after Ton's grandmother who passed away during the pandemic. Located above Ton's super-chic Mayrai Pad Thai and Wine Bar, and overlooking the Wat Pho temple complex, Nusara is a cosy, unpretentious eatery spotlighting traditional Thai cuisine, including Ton's family recipes all given a contemporary twist that Ton himself describes as 'colourful authentic Thai cuisine'. Small, creative Thai bites fill the 12-course tasting menu – think signatures like thinly sliced squid with lemongrass and chilli, crab curry on a crispy betel leaf topped with horseshoe crab roe, and traditional pad krapao, a super-spicy Thai holy basil stir-fry with wagyu.