India's Taj ranked world's strongest hotel brand, again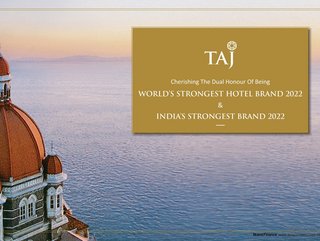 World-class luxury meets responsible business practices makes India's Taj hotel brand the world's strongest for the second consecutive year – Brand Finance
India's iconic hotel brand Taj has been crowned the world's strongest hotel brand for 2022 for the second year running, according to the just-released Brand Finance Hotels 50 report.
From 50 of the world's leading hotel brands, Taj topped the Brand Strength Index with 88.9 out of 100 and a corresponding AAA rating with particular strength marks for customer familiarity, employee satisfaction, customer service, and corporate reputation.
The India-born brand, part of The Indian Hotels Company Limited (IHCL), has seen its brand value increase by 6% to US$314m since last year.
Taj Hotels continues growth worldwide
This comes a few weeks after IHCL, which is South Asia's fastest-growing hospitality company with a portfolio of 236 hotels across 11 countries, announced it is looking to build a portfolio of 300 hotels with a continued focus on Taj.
In April, the company revealed plans to launch 15 Taj hotels in the next decade, including five properties in Dubai, a number of destinations in Saudi Arabia and Qatar, and in India, including a proposed Taj in Chennai, bringing the total number in the city to three.
Among recent Taj hotel openings is the Taj City Centre New Town hotel in Kolkata, India, bringing a second Taj to the town, and the Taj Exotica Resort & Spa, a luxury beachfront resort in the heart of Palm Jumeirah, Dubai, UAE.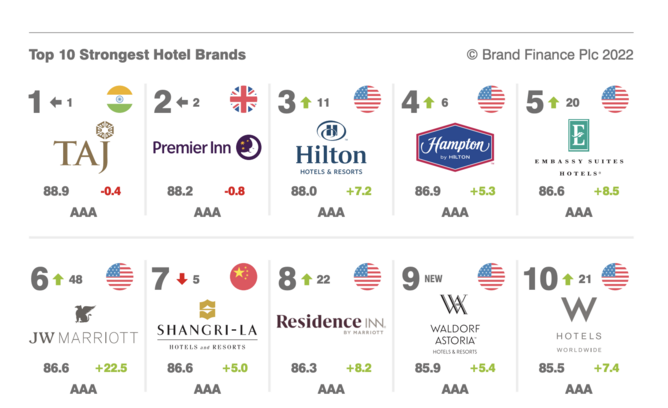 Why Taj continues to lead on branding
While the pandemic and subsequent national lockdowns hit all hotels worldwide, according to Brand Finance "Taj was able to successfully adjust strategies to remain relevant to the demands of tourists, and was at the forefront of this with agility and strategic initiatives such as offering support to the healthcare sector".
IHC's Chief Executive Puneet Chhatwal puts Taj's world-leading brand success down to the fact that travellers are "increasingly gravitating towards brands that not only epitomise the essence of world-class luxury but also follow responsible business practices", and that Taj delivers on both.
"Taj is well-poised to pave the future of hospitality. This recognition is a mark of our guests' steadfast trust and it celebrates the indomitable spirit of our employees, who embody the legacy of the brand while bringing alive the essence of Tajness."
Shangri-La is the world's seventh strongest brand
Singapore's homegrown hotel brand, Shangri-La, was the only other Asia-Pacific hotel brand to make the top 10 strongest brands, ranking seventh.
This marks a fall of five places for one of the world's most iconic hospitality brands, which last year ranked second, though it still has a Brand Strength Index of 86.6 out of 100 and a corresponding AAA rating.
Credited with being the pioneers of Asian hospitality, Shangri-La celebrated 50 years in 2021, unveiling a new brand logo that features a design inspired by Asian calligraphic elements.