Vietnam's FPT Software opens second Seoul office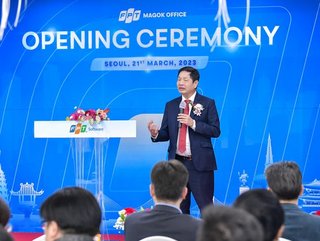 FPT Chairman Truong Gia Binh spoke at the opening ceremony. Photo: Business Wire
Tech and IT service provider FPT Software opens 64th office as it expands from Vietnam base to aim for billion-dollar company status
Vietnam's technology and IT services provider FPT Software has opened a second office in Seoul, South Korea, as it continues to make global moves.
This is the 64th office for FPT which is aiming to become a billion-dollar, global business. Currently, the firm generutes US$800 million in annual revenue, with 27,000 employees in 27 countries.
This new office is FPT's second in South Korea, and allows the company to work closer with existing customers and expanding operations in this key market.
"Our business philosophy is to stay closer to our customers, which could let us reach and serve our customers better," said FPT Corporation Chairman Dr Truong Gia Binh. "FPT will continuously open new offices around the world."
FPT's first office in South Korea opened in 2016 and serves clients including LG Electronics, Shinhan Bank, and Shinsegae I&C.
Shortage of IT talent extends to South Korea
Many nations and organisations are struggling with a lack of skilled talent, and it seems South Korea is no exception. FPT's Korea CEO Ha Minh Tuan says their expanded footprint will help address this issue in Seoul.
"We also see strong demand for technology solutions such as AUTOSAR, IVI, SAP, Low-Code, Managed Services, and Digital Transformation," said Tuan.
"With this new office, FPT Software Korea is committed to helping local clients address their demands for both digital talent and emerging technologies.
"By 2025, FPT Software Korea sets our sights on increasing revenue approximately six times, growing our workforce, and soon scaling up to be a global delivery centre, assisting customers in the region."
FPT is seen as a pioneer in digital transformation, specialising in smart factories, digital platforms, AI, IoT, cloud, and more.