How Alibaba can bounce back after SoftBank's latest sell-off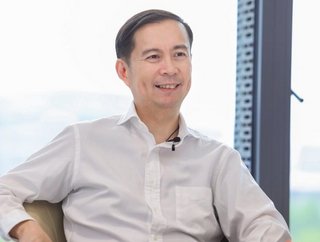 Reasons to be cheerful? Alibaba Group boss Daniel Zhang
SoftBank's share sale in Alibaba Group may have spooked the market but continued restructuring and AI launch could turn the Chinese tech titan around
It's been a topsy-turvy two weeks for China's tech giant Alibaba Group.
First, there came the welcome news that the group was to be divided into six entities, widely seen as a positive move that would please regulators in China and investors globally.
The Hangzhou-headquartered group said it had designed the restructuring to shorten the decision-making process and unlock shareholder value.
The days leading up to this announcement also saw the re-emergence of founder Jack Ma – who had kept an exceedingly low profile since falling out of favour with outspoken views about the Chinese banking system. That resulted in the canned IPO of Ant Group.
It was all looking as if Alibaba had turned a much-needed corner when last week it announced the launch of its own version of ChatGPT.
Alibaba Cloud, the digital technology backbone of Alibaba Group, unveiled Tongyi Qianwen and said it would be integrated across the company's various business arms.
"We are at a technological watershed moment driven by generative AI and cloud computing, and businesses across all sectors have started to embrace intelligence transformation to stay ahead of the game," said Daniel Zhang, Chairman and CEO of Alibaba Group and CEO of Alibaba Cloud Intelligence.
Importantly, Tongyi Qianwen will be available in both Chinese and English language, being introduced first on workplace collaboration and app development platform DingTalk before being rolled out on connected smart home IoT platform Tmall Genie.
SoftBank's latest share sell-off in Alibaba could be good news long term
However, you don't need generative AI to tell you that Alibaba's woes continue, even if there may be light at the end of the tunnel.
When news broke of the great split into six divisions (Alibaba Cloud Intelligence, Taobao Tmall Business, International Digital Commerce, Local Life, Cainiao, Dawen Entertainment) shares in Hong Kong rose from HK$84.25 to break the HK$100 mark. At close of trading on Friday 14 April, shares stood at HK$94.50.
Many commentators were in a frenzy, spooked by the news that serial Japanese tech investor SoftBank was further shedding its shares in Alibaba – a relationship that has lasted more than 20 years. Estimates suggest that SoftBank now owns around a tenth of the stake it once held in Alibaba, as it seeks to both limit exposure to China and also rake in much-needed cash.
However, this could be good news for Alibaba, which is seen as trading far below its real value. On October 2020, shares were trading for more than HK$300.
Alibaba's share value has been impacted by SoftBanks' relentless sell-offs (US$29bn last year alone), and the fact that the Japanese giant's stake is bottoming out will also mean less impact on Alibaba – in theory.
Alibaba rebuilding as SoftBank faces further financial hits
SoftBank has been hit harder than most as tech companies worldwide it has invested heavily in continue to take a beating.
SoftBank's last reported quarterly earnings report makes for hard reading for Chairman and CEO Masayoshi Son, with a net loss of US$5.9 billion.
While SoftBank's fortunes may reflect the tech startups it invests in (albeit at a greatly reduced rate, down around 90% on investments last year), Alibaba seems to be rebuilding – ironically by breaking things down. And the restructuring at Alibaba is set to continue, with local media in China suggesting Tmall and Taobao are to separate just a year after their integration.
Watch this space for updates on Alibaba as the Chinese tech crackdown comes to an end.