Can Chinese EV maker BYD really take on Tesla and win?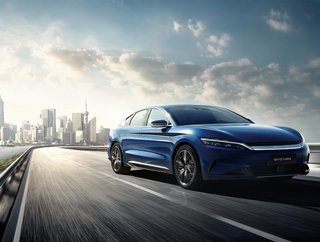 BYD Han EV, one of the bestselling EVs in the world with 1.9 million units sold in 2022 / Credit: BYD
China's biggest selling car brand BYD sees half-year profits surge 200% on the back of the country's booming EV market – but can the brand beat Tesla?
Think of electric cars and most people will automatically think of a Tesla. And rightly so, because Elon Musk has changed the face of EVs by making them both stylish and practical – not a bad improvement on the Nissan Leaf.
However, there is a company that sells more 'New Energy Vehicles' (NEVs) each year, a combination of both Battery Electric Vehicles (BEVs) and plug-in Hybrid Electric Vehicles (PHEVs).
That company is BYD, China's biggest selling automotive brand which just posted first half profits up more than 200% – breaking delivery records.
In a stock market filing, Warren Buffet-backed BYD declared earnings in the six months to June 30 of US$1.5 billion, while revenue hit almost US$36 billion – up 73%.
China's EV market is booming
To say that the EV market in China is booming is like saying the Great Wall is long.
In 2022, the market defied global and local headwinds – such as the looming real estate crisis, not to mention COVID,19) to rose a staggering 82% year-on-year. BYD sold three times as many cars, topping 1.85 million vehicles, and more than half of those were PHEVs.
When it comes to pure BEVs, Tesla is still king, selling around 1.3 million units in 2022, but you would not bet on BYD to lag for long.
Here is the main reason why – China accounted for around 59% of global EV sales in 2022. China also has multiple big players in the EV market when it comes to production. In 2022, almost two thirds (64%) of EVs were made in China.
Those companies having their electric cars built in China for export include Tesla, as well as Polestar, Volvo, BMW, and DACIA.
BYD has been quick to spot the opportunity. In April 2022, it stopped producing cars that were not chargeable, introduced new models, and is now the biggest producer of PHEVs in the world – by some margin. BYD sells more BEVs than Volkswagen globally.
Part of that success is down to keen pricing, with BYD's vehicles far more affordable than most brands.
BYD will not stand still. It has now agreed a deal to buy US-based Jabil's mobile electronics manufacturing business in China for US$2.2 billion.
It is yet to be seen if this is a strategic play to incorporate more smartphone-style technology into BYD's vehicles, as consumers increasingly expect, or a diversification of the company portfolio. In a way, it's a return to BYD's roots, as the company started out as an electronic components' firm and was an Apple supplier.
Could a Chinese company like BYD really take on US giants Tesla and Apple and win? Maybe the question should not be 'could', but 'why not'?