Bain survey highlights APAC Private Equity concerns
3 min
Bain & Company survey shows Asia Pacific exits and fundraising decline and despite Covid-19, high valuation continues to be biggest concern...
Findings from Bain & Company's 2021 annual Asia-Pacific Private Equity Report show the environment remains challenging. Exits were close to a 10-year low and fundraising fell once more.
According to Bain's survey, conducted with 162 senior market practitioners, the top concerns for General Partners (GPs) surveyed include high valuations, increased competition and the ongoing impact of Covid-19.
Shocked by the fallout from Covid-19, investors initially recoiled but many jumped back into the market, especially in China, India, and Japan. This lifted deal value across APAC to a record high in 2020 of $185 billion – up 19% from 2019.
"It's been a rollercoaster year for private equity in Asia," said Kiki Yang, co-head of Bain & Company's APAC Private Equity practice. "But while dealmaking ended the year on a high, Covid-19 has not gone away, and building portfolio resilience will be a crucial skill for leading investors."
Dealmaking drives PE market
Dealmaking helped the region's assets under management rise to 28% of the global PE market.
China's total deal value rose to $97 billion, up 42% from 2019 and 22 per cent higher than the previous five-year average. Meanwhile, India continued to increase its share of deal activity – value rose to $38 billion, up 64 per cent over the prior five-year period.
While deal value also grew in Japan and Australia–New Zealand, South Korea's deal activity remained flat. Travel restrictions saw deal activity hit hard in Southeast Asia, tumbling by 16% over the previous five-year average.
Investors were quick to seize on those companies who were benefitting from a digital transformation – fast-growing companies with digital business models aligned to the switch to virtual work, education, and retailing.
Following a sharp fall to a 10-year low in 2019, the number of exits was flat in 2020, according to the survey, as PE managers waited for the right time to sell portfolio companies.
Of the GPs surveyed, more than 70% say the exit environment was more challenging than in 2019, with Covid-19 being the obvious main cause.
That said, IPOs dominated the exit market, making up more than 60 per cent by value – which is almost double the previous five-year average. China accounted for 86 per cent of the region's IPOs, with the majority being healthcare and technology companies.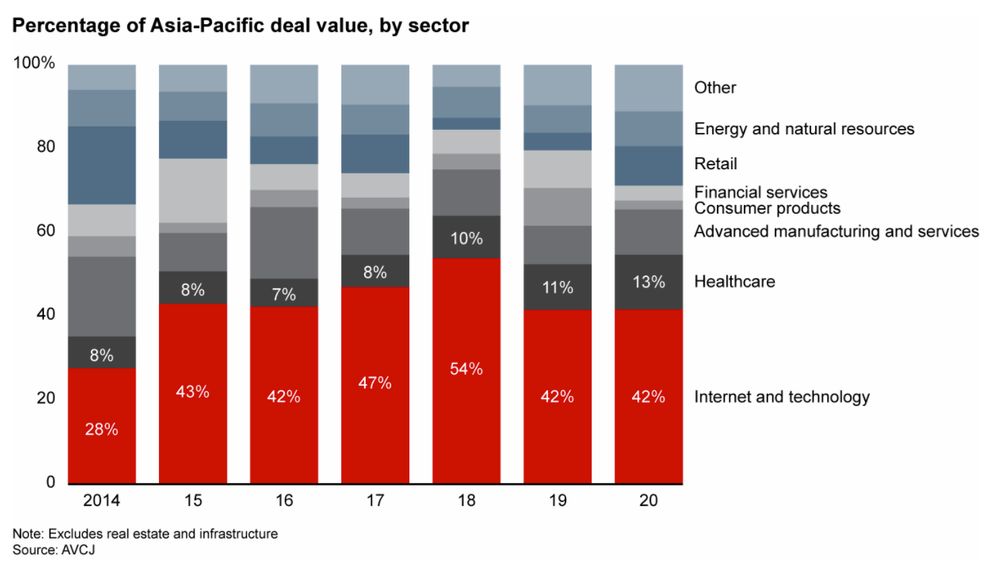 Fundraising slows in APAC in 2020
Fundraising slowed in 2020, with funds focused on Asia-Pacific raising $90 billion, down 32% year-on-year, and 53% from the prior five-year average. To put that into perspective, global PE fundraising declined only 11%.
According to the survey, 60% of GPs surveyed say top-line growth will be the most important factor contributing to returns in the coming five years, with 56 per cent saying they have a robust value-creation plan in place within the first six months of investment.
What does 2021 hold for APAC private equity?
Nearly 80% of GPs expect the macroeconomic climate to be more favourable this year. Key trends identified include:
Digital business models will accelerate: In 2020, growth powered ahead in digital businesses. The survey found Asia-Pacific GPs are most interested in investments in digital health, e-commerce, and e-learning.
Resilience will be a trait of winning investors: Resilience is key to survive and recover from sudden shocks.
"Asia-Pacific has been an exciting and dynamic region for any global private equity fund," said Andrea Campagnoli, a partner in Bain & Company's Private Equity practice based in Singapore.
"Improving macroeconomic conditions coupled with many exciting investment opportunities, especially in digitally advanced sectors, will continue to draw strong interest from investors."
Timeline: India takes unicorn leap with six in five days
2 min
We chart an historic week in India's startup tech industry, where from April 5-9 the country achieved six unicorns
We chart an historic week in India's tech industry, where in just five days, between 5-9 April 2021, the country achieved six new unicorns, bringing India's total to 10 in 2021 to date, an immense unicorn leap from just seven in 2020 and six in 2019.
April 5: Meesho
India's first social commerce unicorn, Meesho raised US$300m from SoftBank, Facebook and Shunwei Capital, giving the Bangalore-based startup a US$2.1bn valuation, a threefold jump from its previous funding round in 2019. Founded in 2015 by two IIT-Delhi graduates, Meesho connects producers and resellers, helping small businesses sell through social media. It has 45m customers and has enabled 13m entrepreneurs to start their online businesses with no investment.
April 6: CRED
Founded just over two years ago, Bangalore-based credit card repayment app CRED raised US$215m from Falcon Edge Capital and Coatue, nearly trebling its valuation to US$2.2bn from its January US$80m round. Allowing customers to pay off their credit card debt while earning CRED coins which they cash in for rewards, CRED has grown rapidly during COVID-19, doubling its customer base to nearly 6 million in a year.
April 7: API Holdings / Groww
The first epharmacy startup to gain unicorn status, PharmEasy (API Holdings), which has digitised 60,000 brick and mortar pharmacies and 400 doctors across India, raised US$350m in a round led by Prosus Ventures. Founded by four former Flipkart employees as a way of making investing simple, investment platform Groww became India's second-youngest fintech unicorn, raising US$83m in Series D funding led by Tiger Global, quadrupling its previous round in September.
April 8: ShareChat
New Delhi-grown social media startup ShareChat, founded in 2016 by Mohalla Tech raised US$502m from Lightspeed Ventures, Tiger Global, Twitter and Snap taking its raised total over six rounds to US$766m and pushing its valuation to US$2.1bn. The funding will be used to grow its user base and short video platform Moj, which launched in 2020 following TikTok's ban in India. The regional language startup claims 280m users.
April 9: Gupshup
AI-led conversational message startup joined the unicorn club after raising US$100m from Tiger Global giving it a ten-fold valuation of US$1.4bn. The smart messaging platform, which has seen accelerated growth during the pandemic, was founded in Bangalore in 2005 by serial entrepreneur Beerud Sheth, whose online freelancing platform Elance is now listed. Gupshup's API enables 100,000+ businesses to build messaging and conversation experiences across 30+ communication channels.