China's top 10 richest green energy execs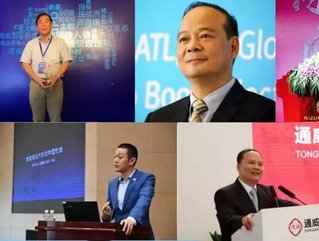 China's new-energy sector billionaires are racing up the country's rich list. We profile China's richest new energy executives
As the world's largest producer of renewable energy and the leader in global New Energy Vehicle (NEV) sales with 47% market share, it's little surprise to find that the billionaires shooting up this year's Hurun China Rich List are those leading the country's new energy companies.
After all, China is aiming to scale up its renewable energy use in the coming decades and has made ambitious pledges to achieve peak carbon emissions by 2030 and net-zero carbon emissions before 2060. In fact, the country recently released its road map of targets to increase share of non-fossil energy in the country's energy mix to around 20% by 2025, 25% by 2030 and 80% by 2060.
And the recently-released Hurun China Rich List 2021 is a reflection of such ambition and success. Because, while many of China's property and tech tycoons who previously dominated the list have slipped down the ranks – Hui Ka Yan, chairman of China Evergrande Group saw his rank plunge from fifth last year to 70th this year, while Jack Ma, founder of Alibaba and last year's richest person dropped rank to fifth this year - the founders and execs of green energy, new energy and NEV firms have catapulted to the top.
Compared to last year's Hurun China Rich List, 60 Chinese execs from green energy firms made this year's list, up 10% from last year, with 20% of those on the list last year growing their wealth this year. In fact, eight of the 10 fastest risers on the list were related to new energy.
"A boom in new energy entrepreneurs, sparked by carbon reduction targets, as well as a spate of new listings of tech-related companies drove this year's Hurun China Rich List to records heights, adding more than 20%, both in terms of number of individuals and also total wealth," says Rupert Hoogewerf, Hurun Report Chairman and Chief Researcher.
The annual Hurun Rich List, launched in 1999 and compiled by the Hurun Research Institute, in Shanghai, included billionaires from Hong Kong, Macau and Taiwan for the first this year. Some 520 more people with a fortune of at least 2bn Chinese yuan were added this year with 2,918 featuring on this year's list with a total of US$5.3 trillion in wealth.
10: Bai Houshan
Bai Houshan
Founder & chairman, Ronbay Technology
Wealth: US$2.56bn
The founder of lithium battery supplier Ronbay Technology (Ningbo Ronbay New Energy Technology Co Ltd.) Bai Houshan, 56, also found himself among the fastest risers on the China rich list in 2021 having seen his wealth increase an incredible 371% to US$2,56bn since last year. Houshan has risen to self-made billionaire status quickly after founding the high-tech new energy material enterprise in 2014. Specialising in the research and business of positive electrode material of lithium batteries and China's largest nickel-cobalt-manganese ternary battery material producer, the Shanghai Stock Exchange-listed company has seen its business revenue surge 45% in the first six months of 2021.
09: William Li
William Li
Founder and CEO, NIO
Wealth: US$6.9bn
Dubbed the 'Elon Musk of China', founder and CEO of electric car manufacturer NIO, William Li, 46, has doubled his wealth in the last year, rising to US$6.9bn and earning him the 84th spot on the China rich list. A serial entrepreneur, who founded his first startup aged 21, Li has co-founded and invested in more than 40 companies in the internet and automotive industries. However, it is the luxury electric car manufacturer NIO, which he founded in 2014, that has boosted his billionaire status having secured investments from Tencent, Temasek, Baidu and Lenovo before being listed on the New York Stock Exchange in 2018. The Shanghai-based company's first models included two-door sports car, one of which went on to set the fastest lap records from an electric vehicle at race circuits globally. The firm also unveiled its 'Battery as a Service' technology in 2020, to decrease the purchase price of its electric vehicles by some 25%.
08: Li Xiang
Li Xiang
Founder and CEO, Li Auto
Wealth: US$5.97bn
Li Xiang, 40, the millennial founder and CEO of Beijing-based electric vehicle startup Li Auto has seen his wealth jump 62.5% launching him to 67th position on the China rich list. A firm believer in using renewable energy to solve the world's environmental problems, Li founded Li Auto in 2005 with the aim of creating a series of exceptional electric vehicles. Now considered to be Tesla's China rival, and having listed on the Nasdaq in July 2020, Li Auto is well-known for its six-seat SUV Li One, which includes a battery pack and a gas-powered engine that charges the battery while on the move. It's this technology that's mean Li Auto can build EVs with smaller, more affordable batteries while delivering long driving ranges. A serial entrepreneur at a young age, Li is also the founder of New York Stock Exchange listed Chinese website Autohome Inc.
07: Li Shufu
Li Shufu
Chairman, Geely Automobile Holdings
Wealth: US$23.6bn
As chairman of China's largest private carmaker, Geely Automobiles, it's little surprise to find billionaire Li Shufu shoot up the ranks following a US$9.4bn wealth increase to US$23.6bn, making him one of the 10 fastest risers this year. The firm, which Li Shufu founded in the 80s, is ambitious in pursuing autonomous driving technologies and full electrification with a 2025 target, where four in 10 vehicles delivered will be powered fully, or partially, by electric battery packs. Li is setting aside US$24.3bn into R&D over the next few years. The company announced this year it was creating an all-new electric vehicle company to focus on smart battery electric vehicles (BEVs) alongside its development of energy-saving and new energy vehicles. This comes on the back of its partnerships with Baidu to produce intelligent electric vehicles, with Tencent to carry out strategic cooperation on autonomous driving and low carbon development, and its investment in China EV startup Zeekr.
06: Liu Hanyuan
Liu Hanyuan
Founder and chairman, Tongwei Group
Wealth: US$16.6bn
One of the fastest risers up the billionaire ranks this year with a US$9.6bn increase in wealth to US$16.6bn, Liu Hanyuan, 57, runs solar cell manufacturer Tongwei Group. While Tongwei is one of the world's largest producers of aquafeed, it also has an energy division producing photovoltaic cells and modules and is now the world's largest producer of solar cells with the firm recording operating revenue of US$4bn in the first half of 2021, up nearly 42% year-on-year. Previously employed by government in the hydropower bureau in Sichuan Province, Chengdu-based Liu founded the firm in 1995.
05: Luo Liguo
Luo Liguo
Chairman, Hesheng Silicon Industry
Wealth: US$21.7bn
Shooting up the rich list ranks, Luo Liguo, 63, chairman of solar product firm Hesheng Silicon Industry, was the biggest mover this year in the top 100 having multiplied his net worth 6.5 times to US$21.7bn vaulting him from 220th ranking last year to 21st this year. After running a successful straw hat-making business early his career, Liguo went on to start Hoshine, a supplier of silicon metals used in electronics, photovoltaic and chemical products that's seen a surge in success since the second half of 2020 following increased global demand for silicon.
04: Wei Jianjun
Wei Jianjun
Chairman, Great Wall Motors
Wealth: US$33.9bn
Another new face on the top 10 rich list block for 2021, Wei Jianjun (aka Jack Wei) leads China's largest SUV manufacturer, Great Wall Motors, with his wife having taken over the debt-ridden Great Wall Automobile Industry Company in 1990, aged 26. The self-made billionaire saw his family wealth increase fivefold from 2020 up 384% (US$27bn) to US$33.9bn, jumping up the list 89 places from last year, and claiming the 7th richest position in China position. A champion of New Energy Vehicles, the firm has produced the world's cheapest electric car and with its new traction battery is planning for 80% of its cars to be NEV by 2025.
03: Wang Chuanfu
Wang Chuanfu
CEO, BYD
Wealth: US$47.4bn
A Chinese chemist and entrepreneur, Wang Chuanfu is the founder, CEO and chairman of Warren Buffett-backed electric-vehicle maker BYD. Known as the king of China's electric vehicle market, the Shenzhen-based billionaire has seen his wealth almost triple since 2020 with an increase of US$14bn to US$47.4bn. The self-made billionaire, who was born to poor farmers in the China provinces and was orphaned as a teenager went on to excel in college at battery technology before co-founding BYD as a rechargeable battery company in the mid 1990s. Today employing some 250,000 people and delivering a revenue of US$22.3bn in 2020, BYD makes EV cars and buses, as well as rechargeable and nickel-cadmium batteries for use in mobile phones.
02: Zhang Xinghai
Zhang Xinghai
Chairman, Sokon Group
Wealth: US$47.4bn
Founder and chairman of the now 30-year-old Chongqing-based Sokon Group, Zhang Xinghai has seen his family wealth rise to US$47.4bn, making for the largest annual increase of 750% of all billionaires on the list this year. With ambitions in new energy vehicles, Xinghai's mission for the Sokon Group is to drive "the automotive energy transformation and create an intelligent mobility lifestyle" with the firm firmly focused on the manufacture of intelligent electric vehicles, energy-saving engines, e-powertrain and compact MPVs. In 2019, the Group signed an agreement with Huawei for the development of IT and software for electric vehicles. Xinghai is also a deputy to the National People's Congress.
01: Zeng Yuqun
Zeng Yuqun
Founder, CATL
Wealth: US$49.7bn
Making the top 10 of the Hurun China Rich List for the first time, and officially the third richest person in China, Zeng Yuqun (also known as Robin Zeng), 53, is founder and chairman of lithium battery maker CATL (Contemporary Amperex Technology), the main battery supplier of Tesla. Having tripled his wealth since last year, an increase of US$29bn, the 'battery king' (as he is known) jumped 21 places and is now richer than Jack Ma, founder of Alibaba, and Pony Ma, founder of tech giant Tencent. One of the world's leading manufacturers of lithium-ion rechargeable batteries, the Shenzhen Stock Exchange-listed company's market value has soared 150% year-on-year to top 1.2 trillian yuan as of September 15, 2021. Six of Yuqun's executive colleagues also climbed the rich list ranks proving that new energy really is the richest kind.