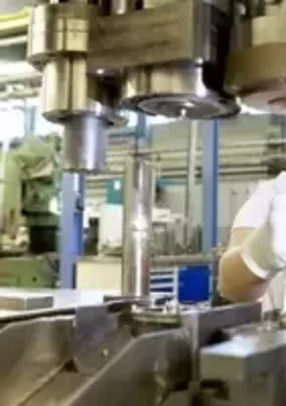 Mann+Hummel: Leveraging IoT, MVP and customization to deliver revolutionary filtration products
A filter is a workhorse. It's hard to think of a mechanical system that does not have filters. They protect the moving parts from damaging particles, and in HVAC systems they protect people's lungs in the same way. As MANN+HUMMEL puts it, they are there to 'separate the useful from the harmful': it may not be the most exciting component in any system, but it is entirely essential because without filters the machine, whether it is part of an automobile, a train or an air conditioning plant, couldn't do its job – and it certainly wouldn't have a long life. Mann+Hummel, a German manufacturer with a global footprint, is the largest filtration company in the world, with 80 locations, more than 20,000 employees, and annual sales in the region of $3.9bn. An impressive statistic is that it sells 24 filters every second.
The company was founded in 1941 and is still owned by the families of its founders, Adolf Mann and Erich Hummel. Its success can be attributed largely to its domination of the automotive and transportation sector. It's a position gained and held in large part because of the trust it has gained with MANN+HUMMEL brands such as Wix Filter, Mann-Filter, Filtron and Purolator. A wonderful history, however, as Chief Technical Officer Charles Vaillant is there to point out at every opportunity, good is never good enough, and the businesses of the future will not be able to grow with the practices of the past. As CTO Vaillant has a very exciting job – no less than to drive the growth of a traditional manufacturer into a digital-age manufacturer, finding previously unconceived value in products that used to be considered dull.
For a start, he says, there are large filtration markets that Mann+Hummel has hardly touched. Filtration is a market worth some $60bn a year, and automotive accounts for only 40% of that, despite the fact that automotive and transportation markets give MANN+HUMMEL 90% of its turnover. "We see a great opportunity for us to take our competence and our capability and apply them in new fields such as life sciences, oil and gas (O&G) and a host of other industries. We can take the competencies that have made us the world's largest filtration manufacturer and apply them in new fields." Currently, he says, the company is investing strategically in 'intelligent air solutions' for buildings like shopping malls, hotels and offices as well as premises where super clean air is required such as clean rooms, data centers and operating theaters.
The filter
Looked at one way, a filter is passive and something not considered smart, however, tools are now available catalyze that transformation. "Combining the latest smart technology, such as sensors, gateways, data acquisition and data mining we can build smart filtration solutions. Even at a basic level example, they can speak to us and tell us what is going through them, when they need changing, and what their operating conditions are. If filters are changed too early just because they are done to a schedule, that incurs unnecessary cost. If they are changed too late, damage may result. A smart solution would trigger the change at the right time and you could really optimize your operating expenditure and maintenance cost." The bottom line is that the filter may be a low-cost item, but by protecting an expensive asset, its value is intrinsically high.
It's easy to underestimate the waste caused by sloppy maintenance, including 'cleaning' filters by reverse-blowing compressed air through them and then refitting them. Engine damage and warranty problems caused by dust ingestion in mining trucks or agricultural machinery are to be avoided when a replacement engine can cost up to $50,000, not to mention the cost of downtime. A smart filter can save the operator disasters like this, Vaillant says. "In construction, mining and agriculture, three of our key markets, they are working in the dustiest conditions imaginable. They get through a lot of filters and they really don't have a good way to know when to change them."
Smart filters are no longer pie in the sky. In November 2017 at CES in Las Vegas MANN+HUMMEL launched its new digital product Senzit. It measures data such as the status of the air filters of agricultural and construction machines in real time and transmits the results to the user's mobile device. The smart device creates added value for users by displaying the load status of the air filter as well as its remaining service life and machine hours completed. It is convenient, saves time, reduces maintenance costs, protects the engine and makes it possible to utilize the full capacity of the air filter. "There are 10 sensors within Senzit," enthuses Vaillant. "It measures pressure, humidity, temperature, and it has GPS and 2G/3G connection. Senzit is installed directly at the service port of the air filter housing and is suitable for almost all vehicles and all air filter brands, even older ones. Once fitted it will connect directly to the network wherever you are in the world and stream the data to the cloud. From the cloud we push the data back, after we have run some machine learning algorithms, either direct to the customer or to a web portal – it's their choice."
Thanks to Senzit, it is no longer necessary to manually inspect the air filter to determine the degree of contamination. It makes it possible to plan maintenance in advance, reduces machine downtime, protects the engine and prevents unnecessary filter changes. Originally conceived as a smart filter, Senzit's horizons started expanding as soon as it was launched. "Because I know the pressure in the filter I know when the engine is on and when it is off, and because I also have a GPS chip on it I can now provide the users with valuable information. I can provide them with a list of all the trips that the vehicle has done, when they started, when they stopped and where they went. So you have a fleet management component as well. That makes this digitization very interesting for us. By talking to the customers and engaging them we understand their needs and challenges and we are able to provide them additional services in order for them to run a better business. For example, some of the people that we talked to are using very big pickup trucks that they don't move much. They use auxiliary power to work lifts, drills and the like. Now they can go on the Senzit app to input an alert that will tell them when the truck has run for more than 50 hours and remind them to change the oil or the belt for example. Many customers are running old machinery that has none of the latest technology built in. Senzit turns these into connected vehicles, and we are adding an anti-theft component so they can see when a machine is moving when it isn't supposed to."
It's a revolution, no less. "IoT is really changing the nature of our company," Vaillant continues. "It's analogous with the digital service that you get from Amazon or Netflix or connected cars. These are things that are making our lives easier and more convenient. What we are trying to do here is provide the same level of customer satisfaction and convenience to our customers that operate in the harsh environments." By leveraging data from climate and allergists, MANN+HUMMEL is currently developing smart filters that will make life easier for asthma and hay fever sufferers, for example. "FreciousSmart is analogous to the way the company works with agriculture," he explains. "We are pushing out individual algorithms for every machine, taking into account the different type of dust and the different weather conditions. A great benefit of digitization is that we can customize products without having the cost of developing separate products. It's about using big data and machine learning and converting the raw data into useful information like how many hours of safe operation they have left."
The internet of things in action
Developing smart filters may have been Vaillant's original objective, but digitization goes much further. "The other piece is the data that we have at our disposal now. On the one side we can have our engineers design better products now that I am collecting data from equipment all over the world. I can see how my product is performing in a real-world environment. In the past we were working with very small samples – today, every single filter can be part of my test fleet. Over the past 75 years MANN+HUMMEL was using mainly lab data to confirm a product performance. Today, analytics and data science are a major part of our work and a new skill set for a company like us."
As global CTO, Vaillant is responsible for a team of developers working on a comprehensive range of digital solutions, from sensors and interfaces to cloud programs. At the hub of this effort is MANN+HUMMEL's IoT lab in Singapore. At this facility, system, hardware, firmware and software engineers and data specialists are working on the development of intelligent technology for filtration. The focus is on intensive cooperation with established technology groups and startup companies. "We have between 15 and 20 people at Singapore, and we are running out of space because we're growing so fast. The world is our sandbox. We decided we want to be close to our customers, to research centers and universities. By doing this you run a very decentralized organization. Most of our people in Singapore speak Chinese fluently; they are in the same time zone as China and there's now an extension of our IoT lab in Shenzhen, China."
Within a couple of months Vaillant will find himself in Silicon Valley, Shenzhen, Singapore and Germany, with brief stops at his North Carolina base catching up with reports from his team around the world. He is in Silicon Valley a lot as leader of startups and the venture arm of the company. "We are a traditional manufacturer and you could think that Silicon Valley is only about Tesla and Apple, but we need new materials and smart sensors and you find this in Silicon Valley as well. The world is changing at a very rapid pace. Large market-leading corporations like us have been doing the same thing for a very long time and really need to reinvent themselves. We need the courage to experiment with a completely different way of working, and I think IoT is a really great vehicle to show what can be done. Digital companies are able to bring out new products in a very short time compared to, say, automobile manufacturers. Cellphone companies show that it's possible to roll out a new product every six or 12 months, not every five years. That is a big challenge and I think a lot of corporates are struggling with it. At MANN+HUMMEL we have the luxury of a leadership and shareholders that are fully backing us to experiment with new things.  They understand that speed is of the essence and time is now!"
So how exactly does IoT speed up product development? It's a matter of escaping from standard manufacturing development processes that are very successive in style and adopting an agile way of working. "I know a lot of people are using the word agile as a tagline, but what I am talking about is sprint methodology," Vaillant says. "When we develop IoT products we launch new features in a two-week sprint, check and validate over another two weeks, then start again – so every four weeks we are able to bring new features into our products." It's a departure from traditional German product development principles. Minimum viable product (MVP) rather than perfection is the principle. From the start of the Senzit project to commercialization took just 12 months, including pilot testing, prototyping, ramp up, manufacturing and the launch of the product. "Now we are launching lots of new features. The hardware stays the same but we build on added value in sprints to optimize and enhance the offering to our customers."
That methodology delivered a sensational new anti-pollution technology platform, "the Fine Dust Eater", is now being trialed in Stuttgart and soon to be seen on the streets of Bangalore and Shanghai. The World Health Organization estimates that 7mn premature deaths a year can be put down to air pollution. In Germany, it's 47,000. The company has developed applications which are designed to reduce the pollution caused by particulates. A filter installed on the roof or on the underbody of a vehicle retains particulates from the ambient air. A brake dust particle filter minimizes the release of brake dust to the environment. The vehicle occupants are protected by an NO2 fine dust combi filter. The idea is to improve the air quality in cities by sucking up the ambient dust – if enough mobile and static units can be deployed. We do not know yet the impact these technologies will have, but as Vaillant says "if you try nothing you will not get anything. If your company core competence is to remove the useful from the armful, then it is your duty to come up with answers, Isn't it?"