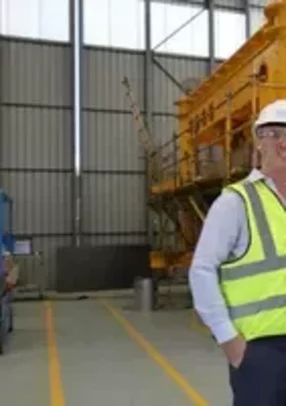 Civmec and its journey expand and diversify
Since early 2016 when we last spoke to Pat Tallon, the energetic CEO of Civmec, the company seems to have grown almost as much as in the whole of the seven years since it came into existence. Well, not quite, but if the plans he is pursuing come to full fruition, that really could be the case at least in another year as far as the order book is concerned.
It hasn't been an easy year. Over the last 12 to 18 months the market appeared to be slowing down as investment declined and the Australian resources industries in particular suffered a number of knocks.
Over that time Civmec has been doing the usual prudent things, like casting around for the contracts that were still being put out for tender and doing what it could to develop its market. One thing it did not do was to retrench. As Tallon explains: "We took a calculated risk and retained much of our overhead, in particular our people. We didn't want to lose the skills and qualities of our experienced teams, so we retained those people and set them to work on estimating and project winning, targeting four or five jobs that we liked the look of."
If Civmec didn't win the work, perhaps that decision might have been a set back, but they did secure the projects, and now has the healthiest order book in its history, with jobs totalling around $580 million secured. The sweet thing, he adds, is that having refused to mothball any of its capacity or lay off staff, it has all the resources needed to meet its contractual commitments and can even add to the order book as opportunities arise without increasing its overhead at all. All that could translate into a significant upside in the current financial year.
With between 2,500 and 3,000 jobs in Western Australia supported by its activities, Civmec is bound to be well regarded by the state administration, particularly its new Premier, Mark McGowan, appointed in March this year – he won with a 10% swing in votes, with employment a key target. Last year we were talking about the steelwork Civmec was installing at Perth's stunning new stadium. Civmec's scope was completed on time to an extremely high quality, though a lot remains to be done before the facility is ready to open.
New pipeline
Let's have a look at some of the projects that are now current – they all have a story to tell. Foremost is probably the award in November last year to Civmec in a 50/50 joint venture with Black & Veatch (B&V, one of the leading wastewater treatment engineers in the world) to design and construct a major upgrade to the Water Corporation of Western Australia's Woodman Point Wastewater Treatment Plant. This job ticks a lot of boxes. It is the first time Civmec has taken on a job for this client – it is a local project and this is critical infrastructure for the region, treating wastewater for about 680,000 people living south of the Swan River.
The upgrade will see its capacity increased to 180 million litres a day. There's a lot of water infrastructure investment needed in Australia, so this could lead to a major new segment for the company, as Tallon adds: "It is also an EPC alliance project which is somewhat different from our standard contractual model: herein this situation there's a target price put on the job and the joint venture partners are very focused on bringing in the project under that budget."
Many of Civmec's long standing clients are in mining, and currently some 60% of the current order book stems from this sector. "We are doing a large job for Rio Tinto in Queensland," Tallon says. "Rio Tinto is expanding output from one of the world's premier bauxite deposits following approval of the $1.9 billion Amrun project."
It involves a full package of work, including civil engineering, fabrication, electrical work and the like. The steelwork will be fabricated at Civmec's Henderson facility on Australian Marine Complex – the largest undercover fabrication facility in Western Australia – and shipped to Queensland from there.
More recently the company was awarded an expansion project at Alcoa's Pinjarra Alumina Refinery, just 80 kilometres south of Perth. It's another EPC contract, involving the engineering, procurement, delivery, construction, integration, commissioning and performance testing of a filter facility, materials handling system and associated supporting infrastructure at the site. Over the next 18 months Civmec will be integrating the world's largest plate and frame filters at Pinjarra with the rock conveyor system.
Another ground-breaking project in more ways than one is at Altura's Pilgangoora opencast lithium mine in the Pilbara. Civmec has secured a package of civil works there, and Tallon is hopeful that more packages will follow. Lithium, he says, is an up and coming mineral much in demand from the technology industries, especially for use in batteries.
All in all, Australian mining is looking up at last, with newer minerals like lithium coming along, and traditional gold mining coming back as world gold prices rise – in June, a joint venture with Amec Foster Wheeler and Civmec won a $298 million contract to build out the Gruyere Gold Project 200 kilometres east of Laverton in Western Australia.
The scope of work includes the engineering, procurement and construction of the process plant and associated infrastructure. "All of these contracts," says Tallon, "apart from Amrun which is on a prime sub-contract basis, are EPC jobs, and that alone puts us in a different space from where we were last time we talked." Lithium, gold, even iron ore, is making a comeback, he adds. "Our regular clients in the iron ore space, like BHP Billiton and Rio Tinto, are doing feasibility studies and looking at large packages of work that will come on in the outlook period. We have a strong relationship with both clients so are hopeful we will be in the running for some of those packages."
Setting sail
As we reported last year, Civmec acquired the Forgacs property and facilities at Tomago, Newcastle and the name of Forgacs, Australia's largest privately owned shipbuilder. The successes we have been talking about above might look like plenty to be getting on with, but the potential for Civmec's new subsidiary Forgacs Marine and Defence are huge as the Australian Defence Department pushes forward a series of new ship acquisition and maintenance programs.
"Our motivation for the acquisition was actually twofold," explains Tallon. "The Forgacs facilities in Newcastle are quite close to Sydney, with about 24 hectares of waterfront land, and there is a lot of infrastructure type work in Sydney at the moment. We're going to use these facilities to develop on the east coast and we are currently expanding them. We have already built a precast concrete workshop which allows us to do prestressed items like bridge beams so we can target major infrastructure projects in New South Wales and Queensland." The fabrication facility is being expanded too, new equipment is being brought in and the aim is to create a similar site to the Henderson yard.
The other motivation behind the acquisition is to be able to bid for some of the upcoming work announced by the Navy in an $89 billion programme. Tallon continues: "The government is committed to several defence shipbuilding programmes, one being Pacific patrol vessels, one offshore patrol vessels (OPVs), and they also intend to order nine new frigates and 12 submarines."
The first package off the blocks is the OPV contract and if Tallon can't secure that it will not be for want of capability or effort. Three ship design firms were shortlisted by the government to deliver 12 vessels 'to undertake constabulary missions and the OPV will be the primary ADF asset for maritime patrol and response duties'.
In April 2016, the three contenders for the $3 billion OPV project were named, Damen of the Netherlands, Fassmer of Germany and Lürssen of Germany. Civmec/Forgacs had discussions with all three. Forgacs ended up singing a memorandum of understanding (MOU) with ASC, the government owned shipbuilder, to bid in partnership for two of the three designers, Damen and Lürssen. The winner will start construction in 2018 with the first vessel delivered in 2021 – and as long as the design of either of those companies wins out, Forgacs, in partnership with ASC will be involved in constructing them, initially in South Australia and transitioning to their facilities at Henderson in Western Australia. This would take Civmec into a new league, though one for which it is thoroughly prepared. And as the government's wish is for a continuous build and maintenance deal, it could bring in work for decades to come.
Staying on track
Both client and partner will be able to check daily progress of their project and track every component in the process while the project management team will be able to track every man-hour spent via its proprietary Civtrac platform. "We can find out straight away if we are on schedule or behind and control our costs that way," explains Tallon.
"Nothing on the market was robust enough for us so we developed our own. It was a big factor in winning the confidence of the ship designers we are now working with. It does not guarantee that everything on your project goes well all the time but it gives you the power to know as soon as it does not and address it. If you can spot something slipping when you are at the early stages, you can generally catch it before it goes too far
The government has also announced that all future shipbuilding for defence will either be completed around Adelaide, or at Henderson as the second major shipbuilding precinct. The entire Australian submarine fleet and half its surface ships are based at the Royal Australian Navy's largest fleet base, Fleet Base West, also called HMAS Stirling, on the shores of Careening Bay on Garden Island, close to Perth, so the Henderson facility is perfectly situated to serve it being only 10 km away. Accordingly, Civmec is going to invest $80 million in building a second facility alongside its existing Henderson yard that will allow it to build ships and carry out maintenance, under cover, 24/7, 365 days a year.
"It's state of the art, as good as any in the world," Tallon declares, on the authority of the top global consultants. "The building will be around 205 m long by 130 m wide. That's a similar area to the existing facilities but it will have significant height, up to 60 m, so you will be able to get a ship and all its superstructure in there for repair and maintenance."
The land has already been secured and work started. A large sandblasting and painting facility is being added, but for many purposes the existing yard can support the shipbuilder with steelwork, plate cutting and the like – there will be no capacity tight spots.
A compact summary is difficult – Pat Tallon is a hands-on leader and he expects his team to be the same way. "I ask God for a few extra hours each day," he quips when asked how that is possible given the way the business has grown. "We don't want to be a company that talks a lot: we prefer to let the market judge us by what we are delivering."